Pacer Android supports direct data syncing with Fitbit wearables.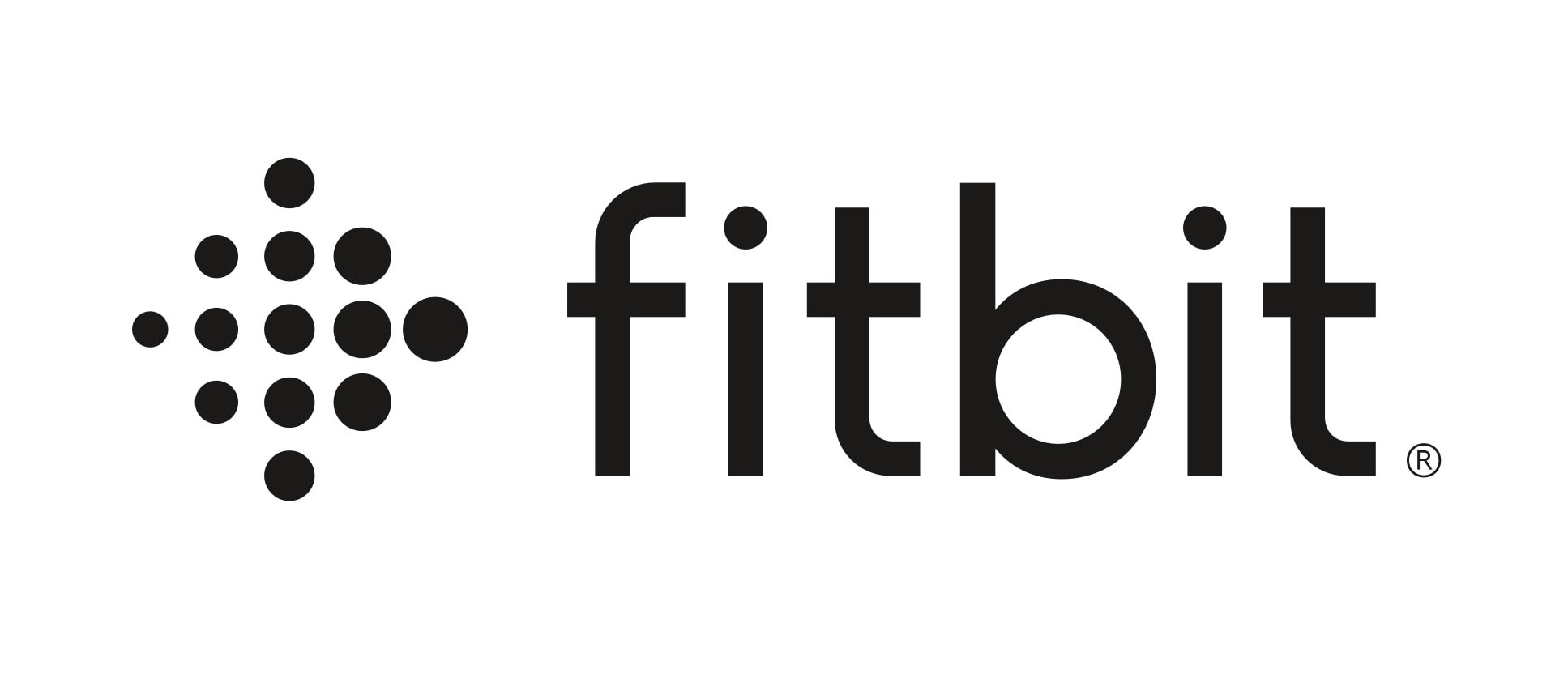 You must be a

Pacer Premium subscriber, Pacer Virtual Adventure Challenge Participant

and/or a

Pacer for Teams Enterprise version

challenge participant to connect Pacer with Fitbit devices. You can purchase Pacer Premium subscriptions in the Google Play App Store, or talk to your Pacer for Teams Admin for more information.
Syncing Instructions
1. Ensure you have connected & synced your Fitbit device with the Fitbit app.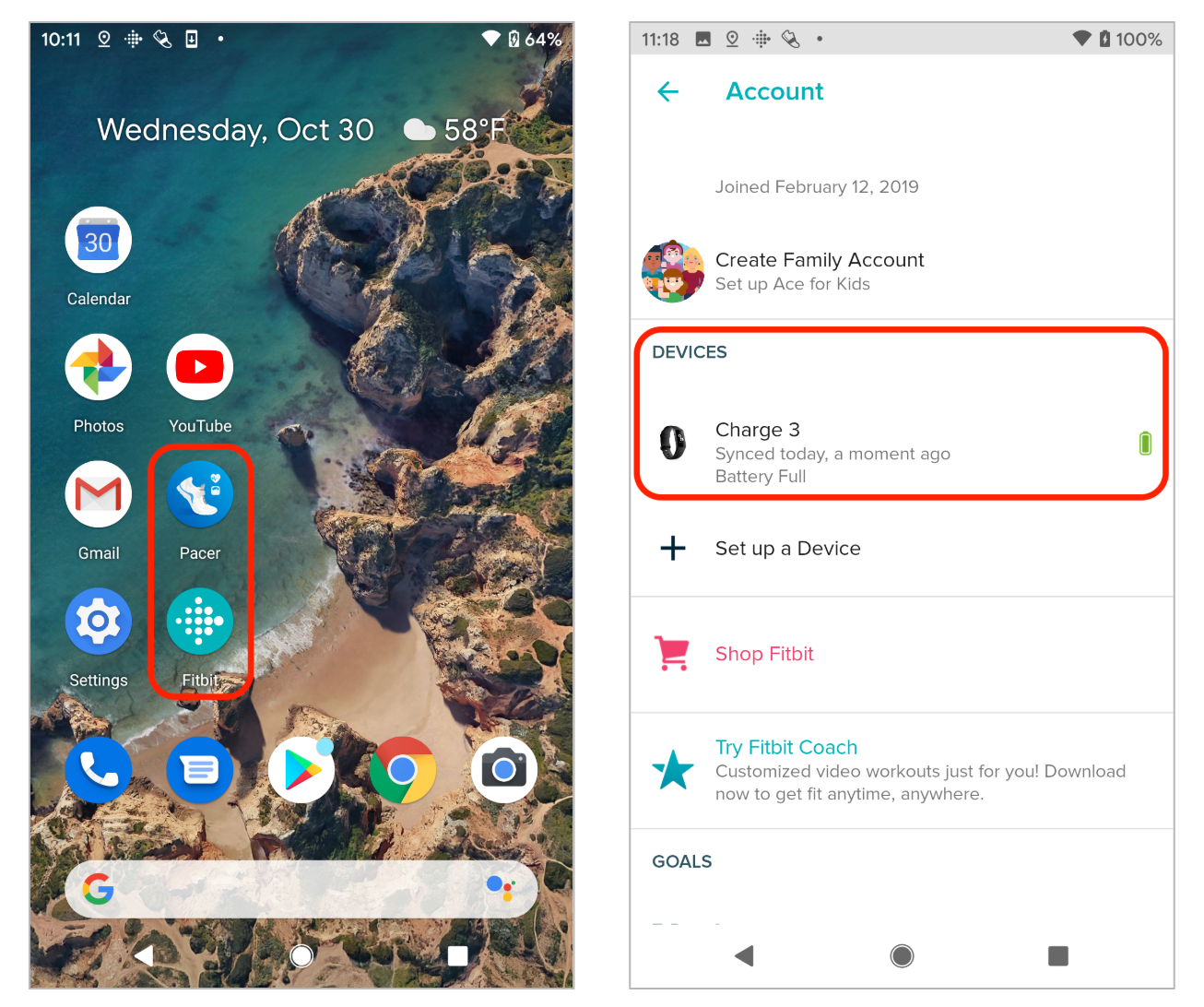 2. Launch Pacer. Go to Pacer Home page (the shoe icon) and tap the profile icon in the top left corner of the screen. Then, find and tap "Step Data Source".


3. Enter "Steps Source" page > scroll down to find and tap Fitbit >"Connect" > turn on the button "Use Fitbit as Primary Data Source".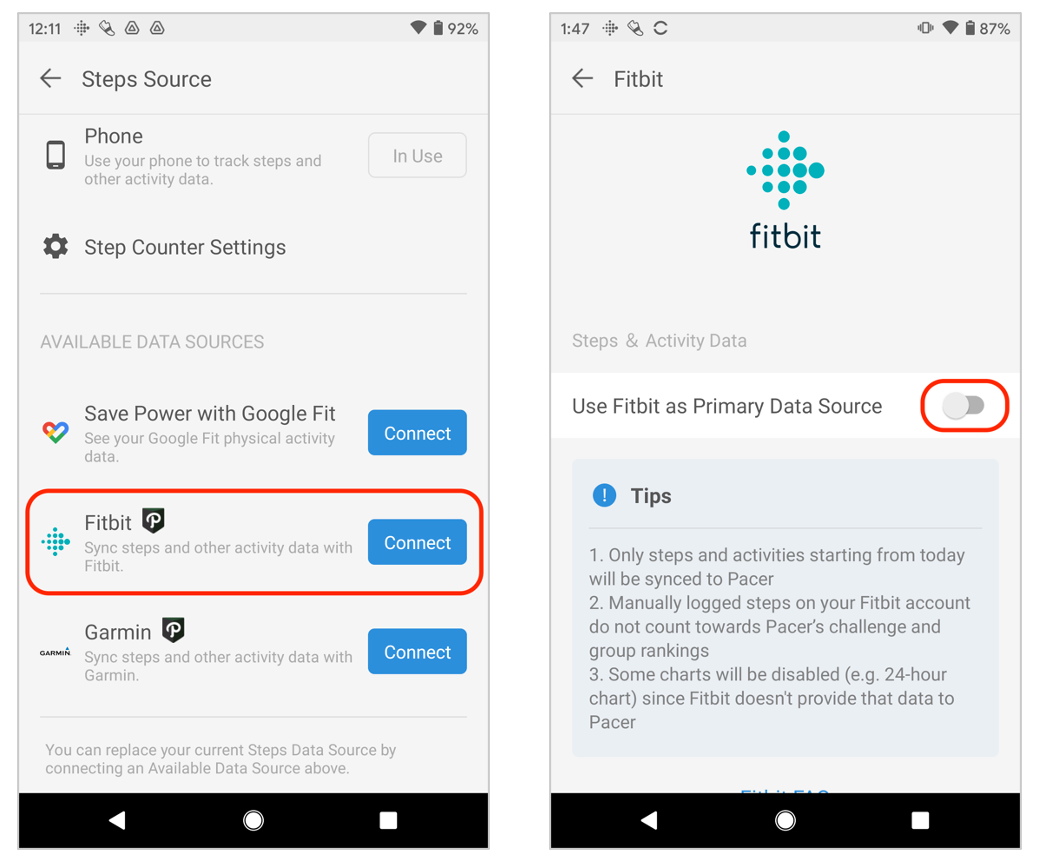 4. You will be asked to grant Pacer permission to access the Fitbit data - please allow All.
Then you will be directed to a Fitbit website to log in your Fitbit account - please manually input your email address and and password to log in, unless you confirm your Fitbit account is exactly linked with your Google account.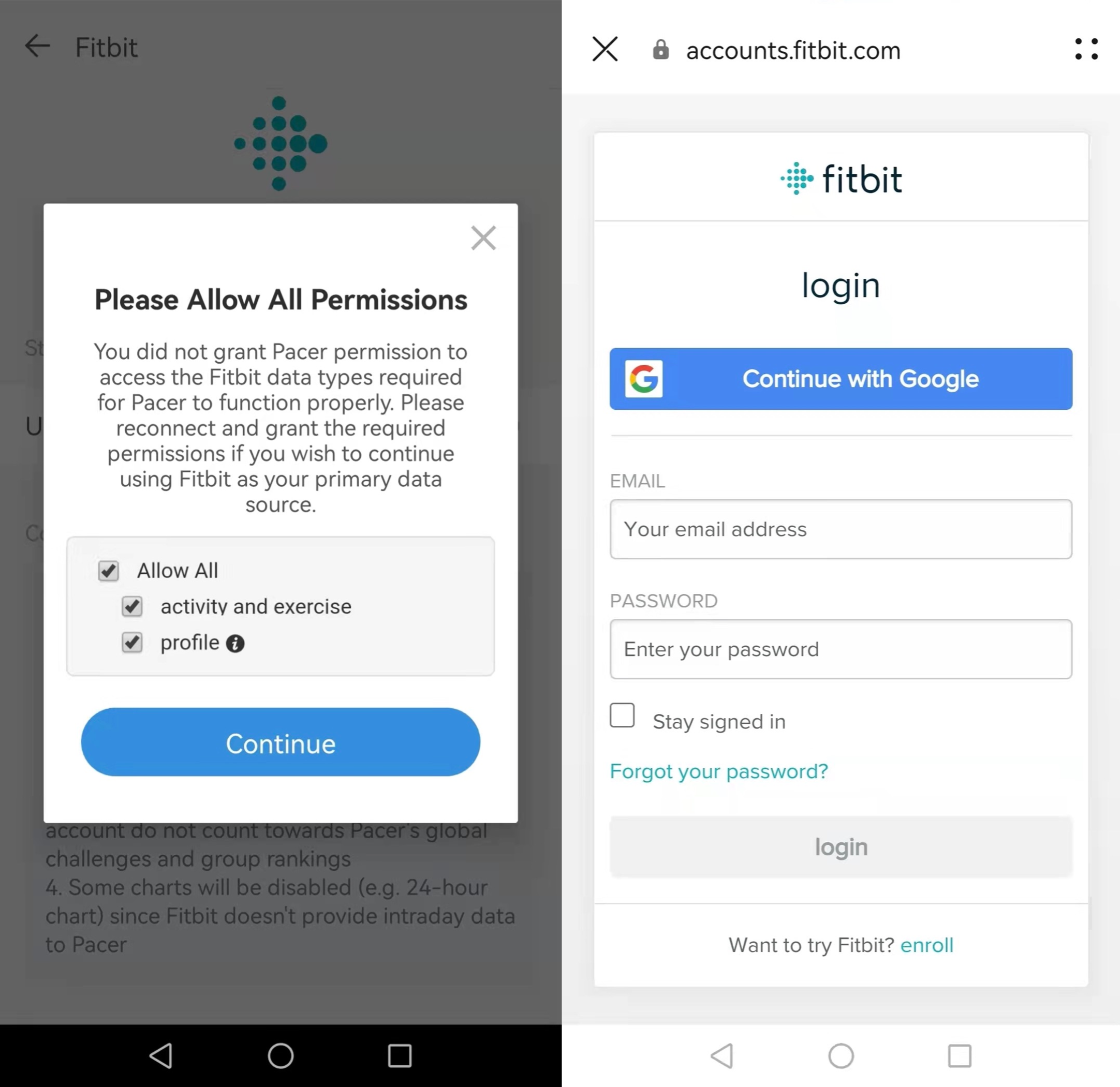 5. Log into your Fitbit account and give yourself a high five. Your Fitbit is connected to Pacer. Go back to your Pacer Home page, and check your steps!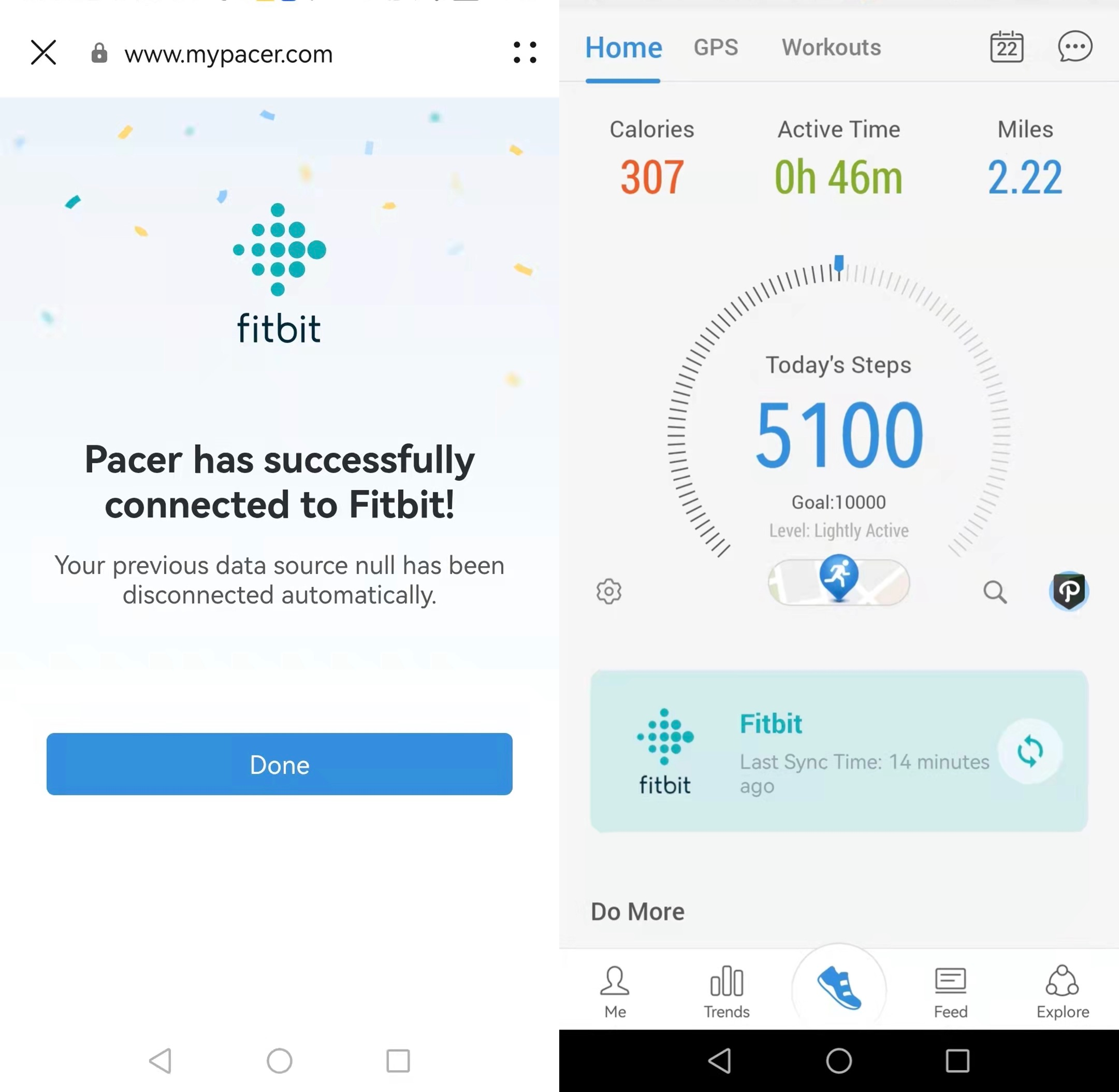 6. No data synchronization? Please first confirm you connected the in-use Fitbit account properly!
Find connected Fitbit ID in the Pacer app: Pacer > Me > Settings gear in the top right corner > "Steps Data Source" > tap "Fitbit - In Use" > check "Connected Fitbit Account" with Fitbit User ID.



Please confirm the connected Fitbit User ID shown in Pacer, is same with the one in your Fitbit app (see it in Fitbit app - "Personal" page).

All good, but still no data synchronization? Please contact Pacer Support. We will look into the problem specifically for you, and reply soon!

What data is synced between Fitbit and Pacer?
Synced from Fitbit to Pacer
Steps*
Calories**
Active time***
Distance
Manually logged activity†
Synced from Pacer to Fitbit:
*Based on the initial connection, Pacer will sync your steps and activity data for the most recent 4 days.
**Calories are the number of calories burned during the day as calculated by Fitbit for periods of time when you were active above sedentary level. This value is calculated minute by minute, for the minutes that fall under this criteria. This includes BMR for those minutes as well as calories burned through activities.
***For more information on Active time, please refer to the Fitbit support page: http://help.fitbit.com/articles/en_US/Help_article/1379.
†Manually logged activity data on Fitbit account will be synced to Pacer, but will be deducted from all Pacer's social features (including Pacer's global challenges and group rankings). However, manually recorded data in the Pacer app won't be synced to your Fitbit account.
‡After connecting with Fitbit, you can still track your activity using Pacer's GPS exercise feature as well. However, we recommend you use Fitbit only to track those GPS sessions to avoid double-counting them.
What will not work in Pacer once Fitbit is connected?
Since Fitbit does not provide detailed hour-by-hour data to Pacer, all 24-hour charts in Pacer will be empty. This includes charts on the Home Page, the "Me" Menu, and My Coach.