Org owners and admins can allow or disallow new P4T registrants anytime during an active P4T free trial or subscription. This can serve as a challenge signup deadline or to ensure you don't exceed your subscription user count limit.
By default, your org is open to new participants - an open door. If a participant has access to your P4T org's invite QR code, link, or code, and your org is open to new users, they can join the org.
If no active teams exist, they will simply join the org.
If there are active teams, they can choose a team that has not reached its team size limit if there is a limit in place.
Close Org to New Participants
To close your org to new participants, sign in to the admin platform, and click Settings or the gear icon. Scroll down to Participant Settings, and click the first button to No - Do not allow new participants to join your organization.

If an org is closed, participants who try to join with the credentials will see a grayed-out Join button. If they tap the button, they will receive a closed org message.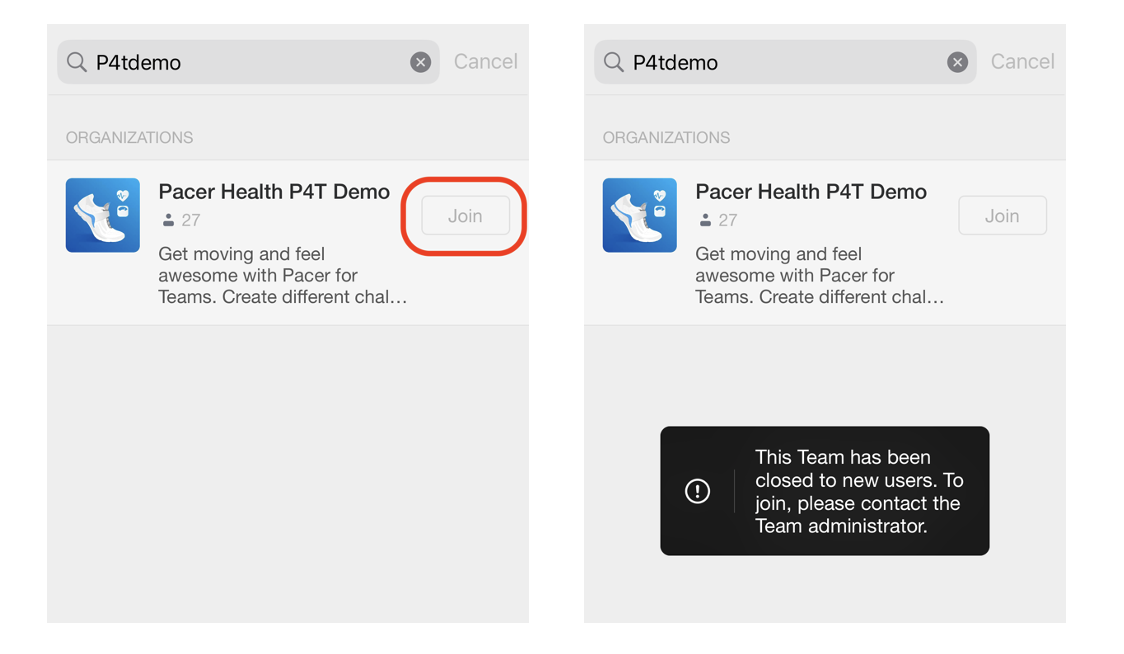 Open Org to New Users
To reopen your org, click Yes - allow new users.
Remove Participants
If participants have joined your org and you don't know who they are or don't belong, you can remove them and close the org.
Change Org Codes and Links
If you are a returning customer reusing a P4T org, you can change your invite credentials by changing your org code. Any participant who tries to rejoin the org and uses the old org code, QR code, or link will not be able to locate your org in the Pacer app. Only org owners can change the org code.