If virtual challenge plans include teams competing against each other, admins can create, edit, and delete teams anytime. Participants The P4T system can accommodate any number of teams and any number of members.
Key Points
1. Team creation/management can be conducted anytime in the web-based admin platform by admins. Admins can also allow participants to create a team in the Pacer app when they join the organization. Admins cannot create teams in the Pacer app.
2. Admins can set a team member limit.
3. Once a participant joins a team, they can change teams if no challenges are in progress. Once a challenge is in progress, only admins can move participants.
4. Team assignments are valid for every challenge created in the P4T challenge system. Admins can reassign teams after all current challenges finish.
5. If admins create teams before anyone joins the organization, participants must select a team in the Pacer app.
P4T Org Default Team
The P4T system requires at least one team in your P4T organization to hold users and collect activity data. The default team in a new P4T org is named Standard. If you are not using teams for your upcoming challenge(s), you can leave it as is.

If you plan on creating teams, you can either rename the Standard team or delete it when you create other teams.
Create Teams
1. Click Manage Teams in the left control panel.
2. Click Add Teams in the top right corner.

3. Input the team name in the box and click Save. Team n
ames cannot exceed 64 characters.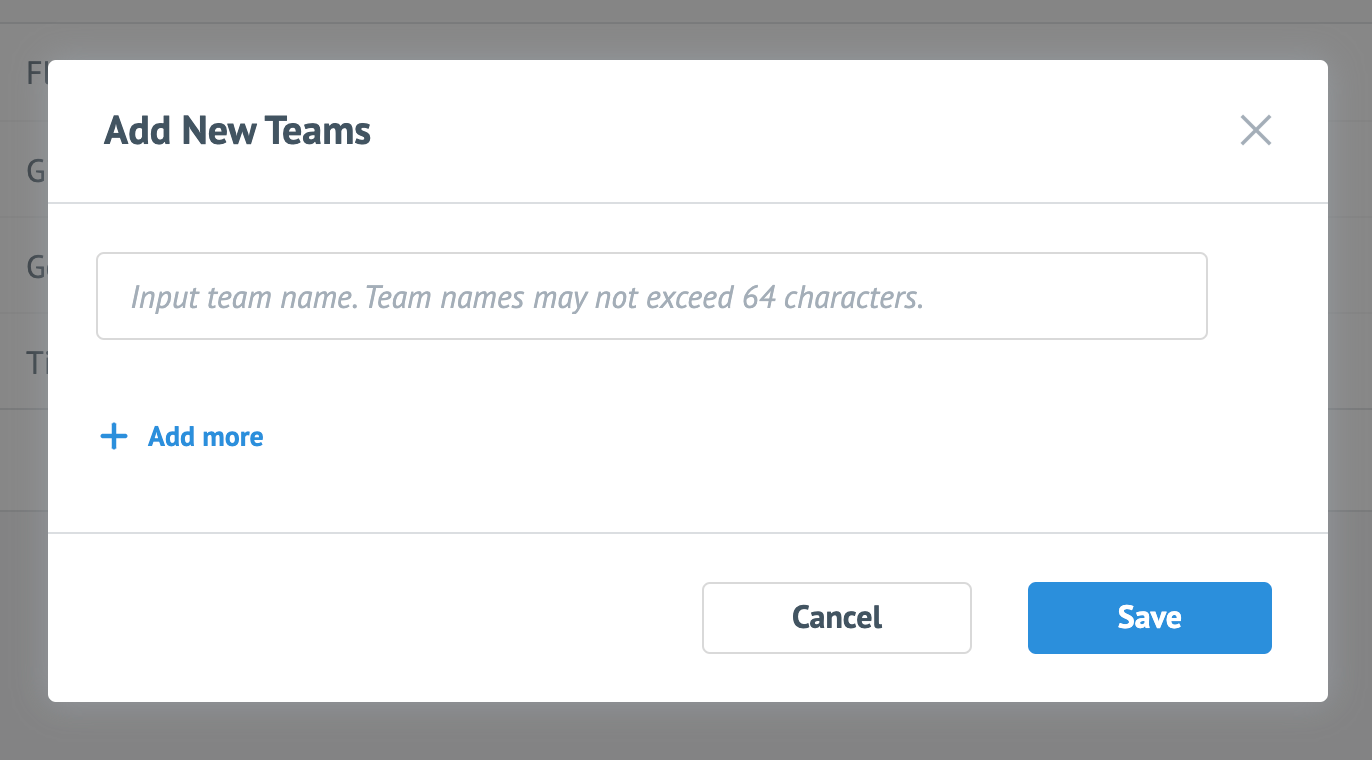 To add multiple teams simultaneously, click the Add more button. Input all team names and click Save.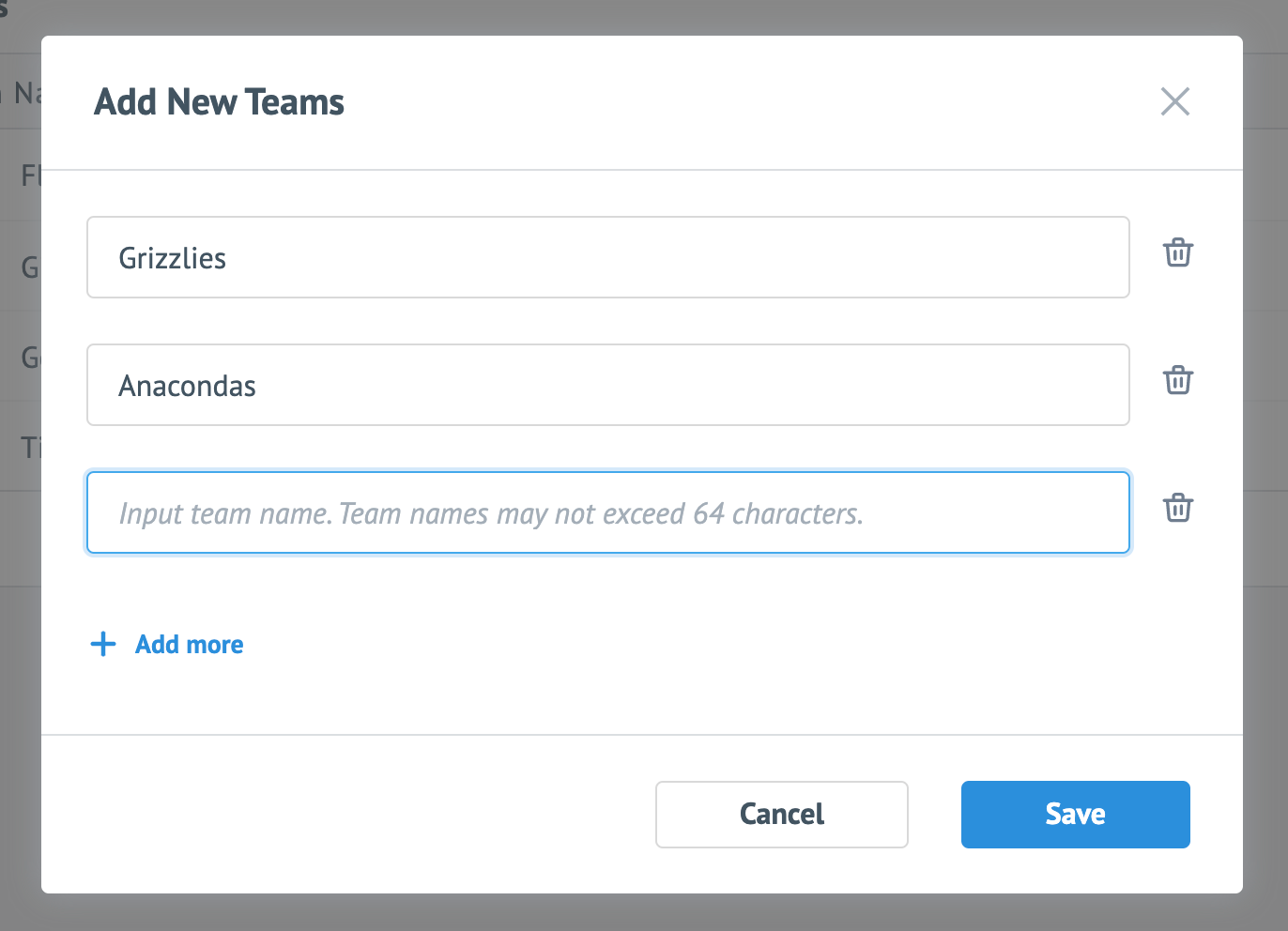 Click the trash can/delete icon to remove any teams you created.
Set Team Size Limit
Team size limits can be whatever you'd like. Many organizations create team sizes that range from 4-10 users.
You must create enough teams to accommodate all of your participants. If you do not, new users will not be able to join your organization. The system will warn you if you need more teams.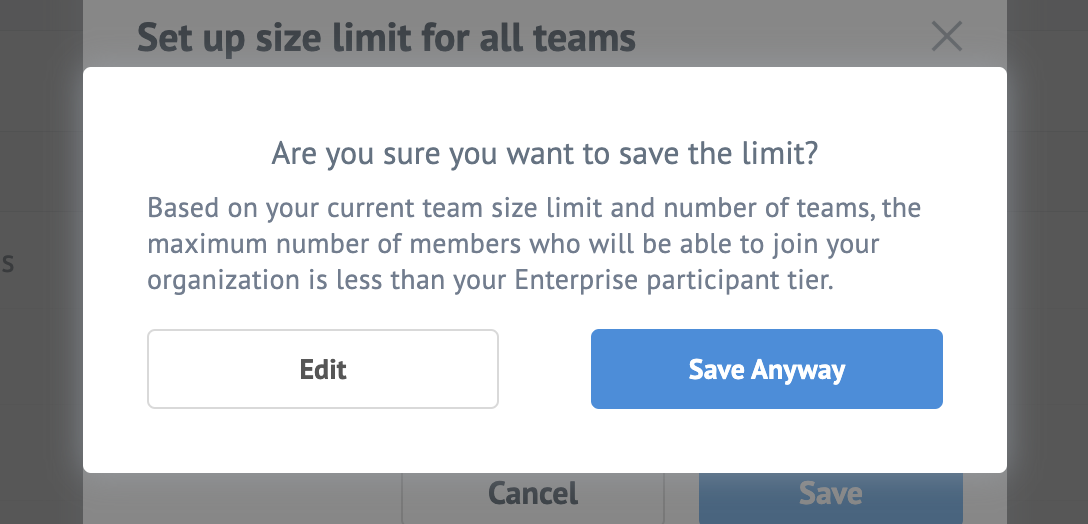 1. Click Set up team size limit in the Manage Teams Menu.

2. Set the team limit value to whatever you'd like, and click Save.
The team limit applies to all teams in your P4T org.

3. To change the team size limit, click Team size, change the team limit to whatever you'd like, and click Save.
To remove the team size, choose Remove Limit.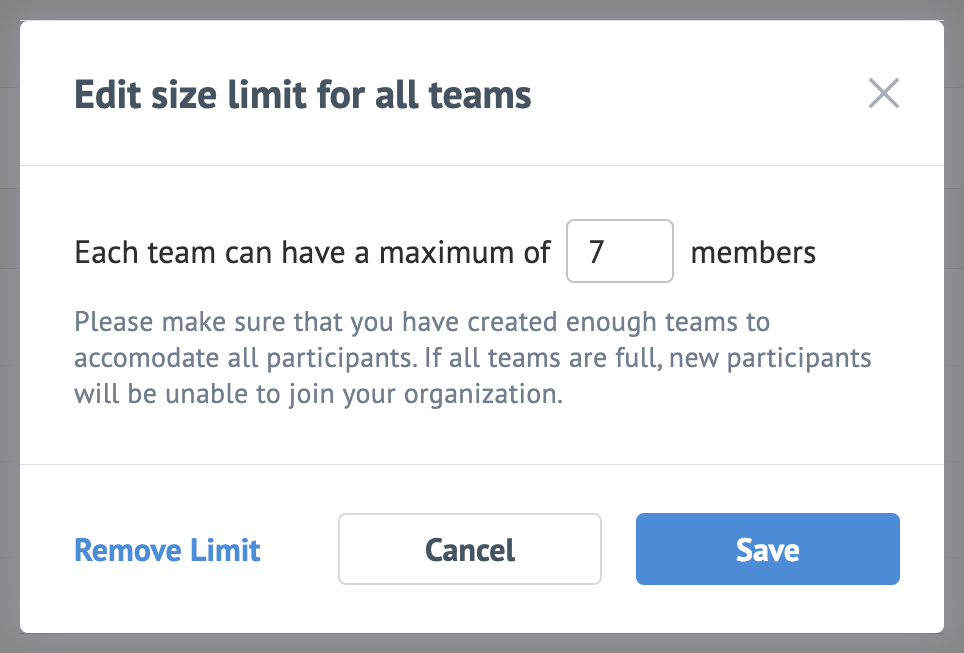 When users go through the join org process and reach the team selection screen, teams that have reached the limit will be marked Full. Users must choose another team to join the org successfully. Anyone who tries to join a full team will receive a notification.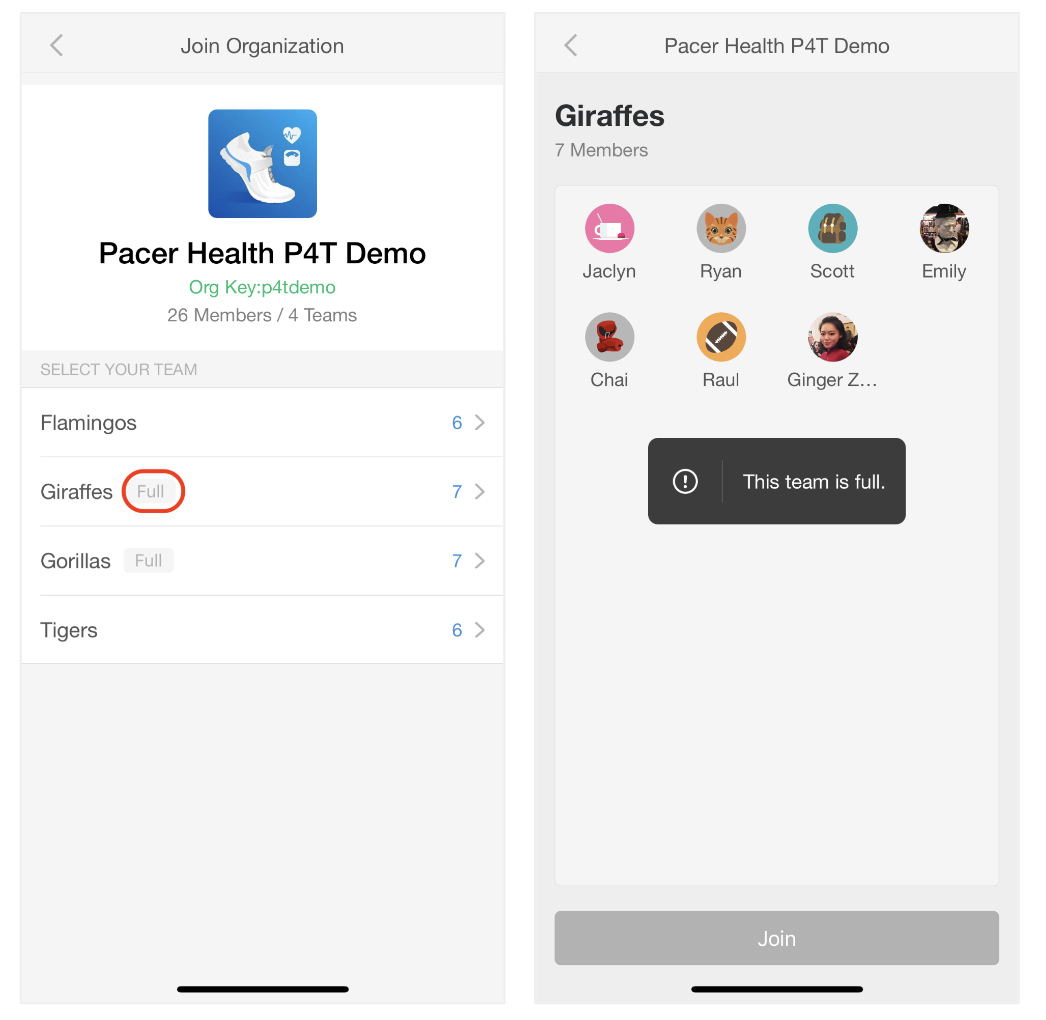 Edit/Rename Teams
1. Click the team icon or name in the Manage Teams navigation > All Teams window.
2. Click the Edit button in the right corner.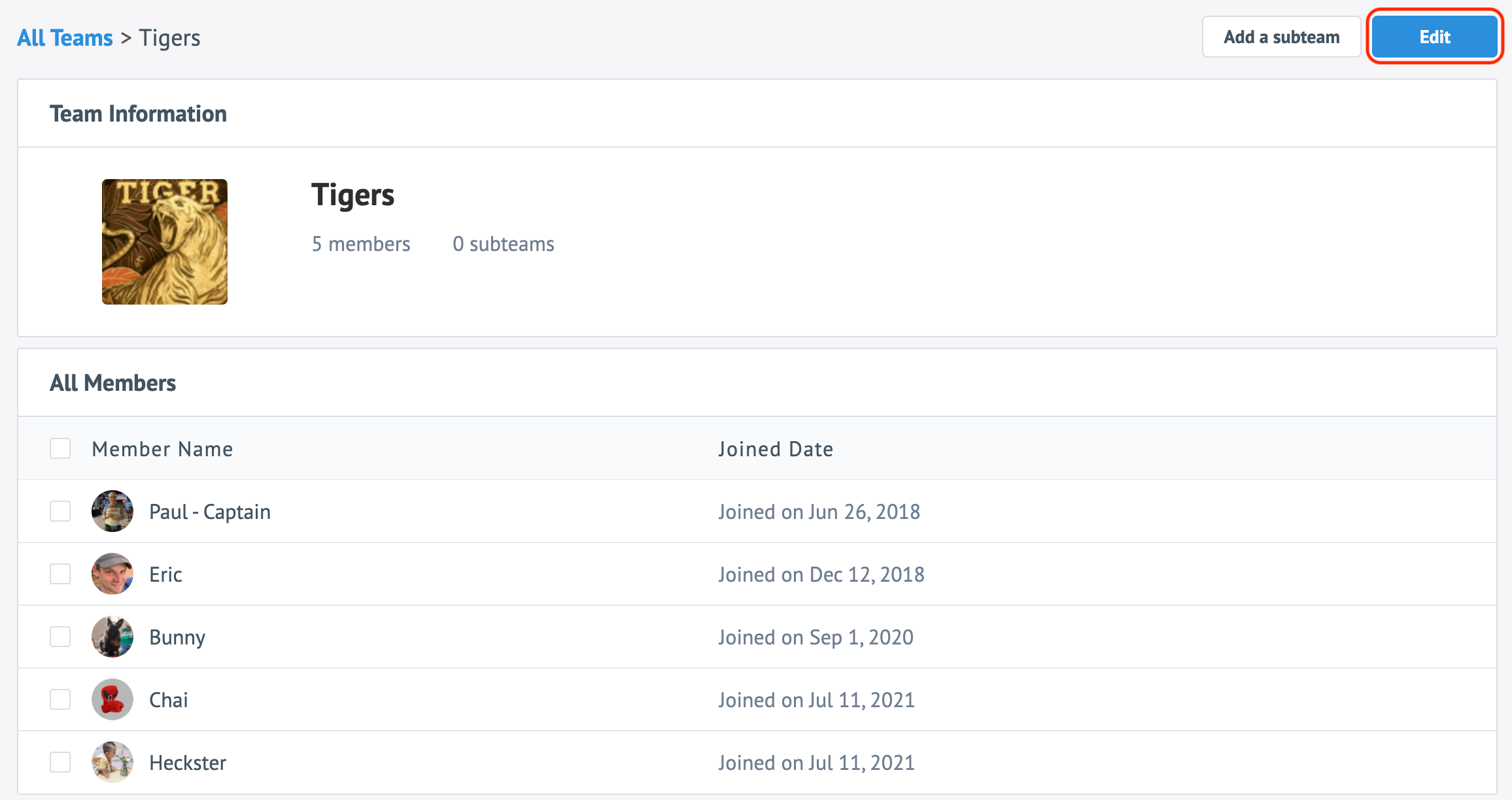 You can edit the following:
Icon
- Admins can add a team icon/photo that will be visible in the team leaderboards. Click Change Photo. You can choose from a built-in gallery (animals, fruit) or upload icons from your computer and click Open.
Name
- You can edit/rename a team whenever you'd like. Add/Change the name and click Save. You can also write a team description (team motto, etc.).
Subteams - Visible only in the Admin platform and challenge data exports. Admins can break teams down into subgroups for back-end statistical purposes. Note: subteams are not visible to participants in the app challenge leaderboard.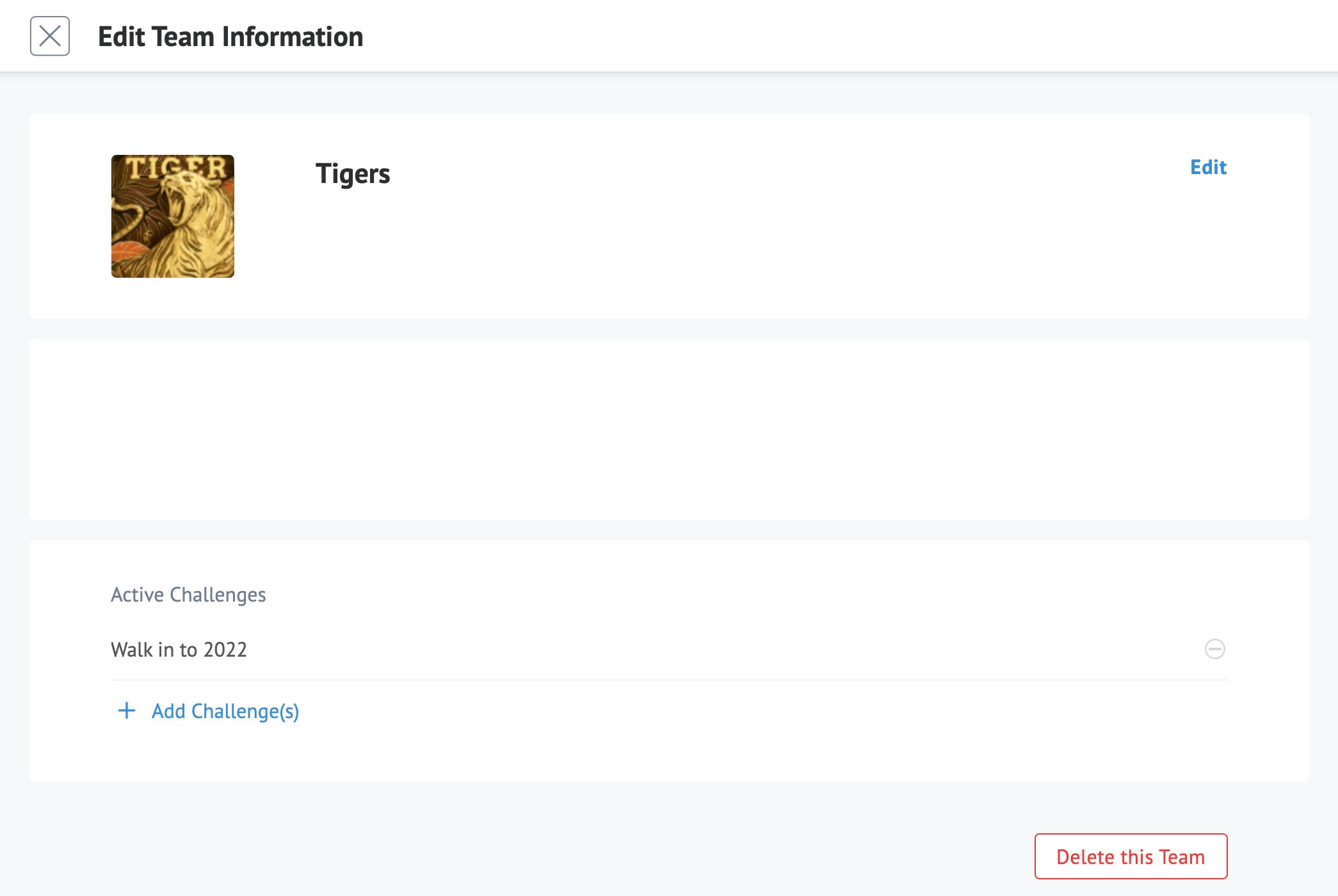 3. When you're done configuring the team, ensure all changes have been saved, and click the close window X in the top left corner. You can also click the back button in your web browser.
Delete Teams
Only empty teams can be deleted. All existing members must first be moved to another team before you can delete the team.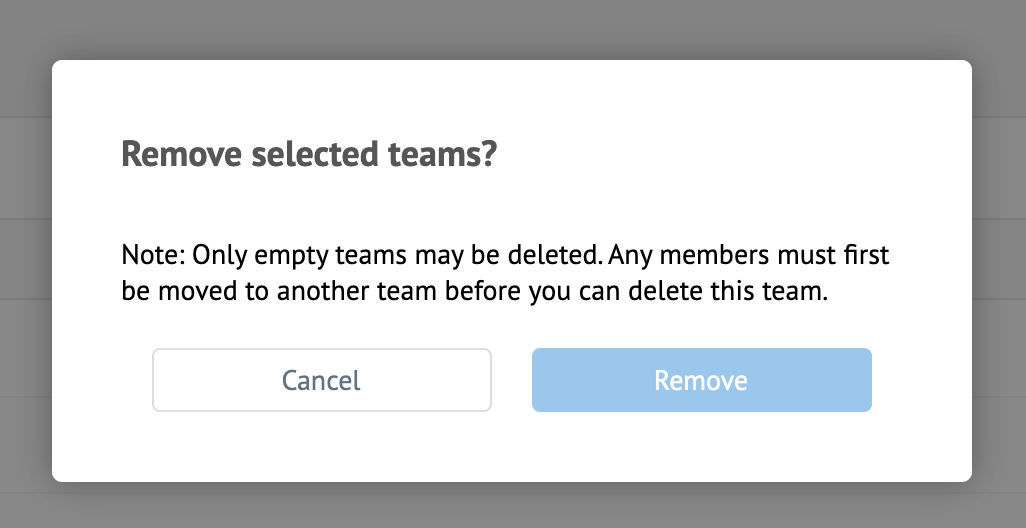 1. Hover your cursor over an empty team in the All Teams window, click the trash can/Remove option, and confirm.

You can delete more than one empty team at the same time. Click the checkbox next to the teams you want to delete, and then click the Remove button. Confirm.

2. You can also click the team icon or name in the Manage Teams navigation -> All Teams window. Click the Edit button in the right corner of the box, and then click the Delete this Team button in the bottom right corner of the Edit a Team window.