The P4T system provides three ways to invite members: Email Invite, Org Key, and QR Scan Code. Ultimately, each participant will need to:
1. Download Pacer on their smartphone.
2. Launch the Pacer app and input the challenge's P4T Org Key in the P4T portal: Home > Explore > My Team.
Share the P4T Org Key with Your Participants
In your Pacer for Teams Admin platform Overview screen, select the + Invite button from the left-side menu to access the 3 options.
Email

- The Pacer for Teams Admin web platform creates a participant email invite template that includes basic challenge information content, a link to download the Pacer app and the P4T Organization Key used to enter the Org/Challenge. Admins can send the invite email template to their own email address, add/edit content and documents as necessary, and send/blast out to in organizational email servers. Note: The current system can send the template to only one email address at a time. 

Organization Key

- You can simply share your Pacer for Teams Organization Key via any communication method you'd like, which can be inputted directly in the Explore menu/My Team portal in the Pacer app.

QR Scan Code

- A unique QR code is also created for P4T accounts, and when scanned by a smartphone, will directly send the participant to Org/Challenge.  You can download the QR code and add to your invite email to provide participants multiple options.
Enter the P4T Org/Challenge
When challenge participants download Pacer for the first time, they will see a Pacer for Teams Quick Access link at the bottom of the welcome page. Once tapped, they can follow the simple prompts to join the challenge and create a Pacer account.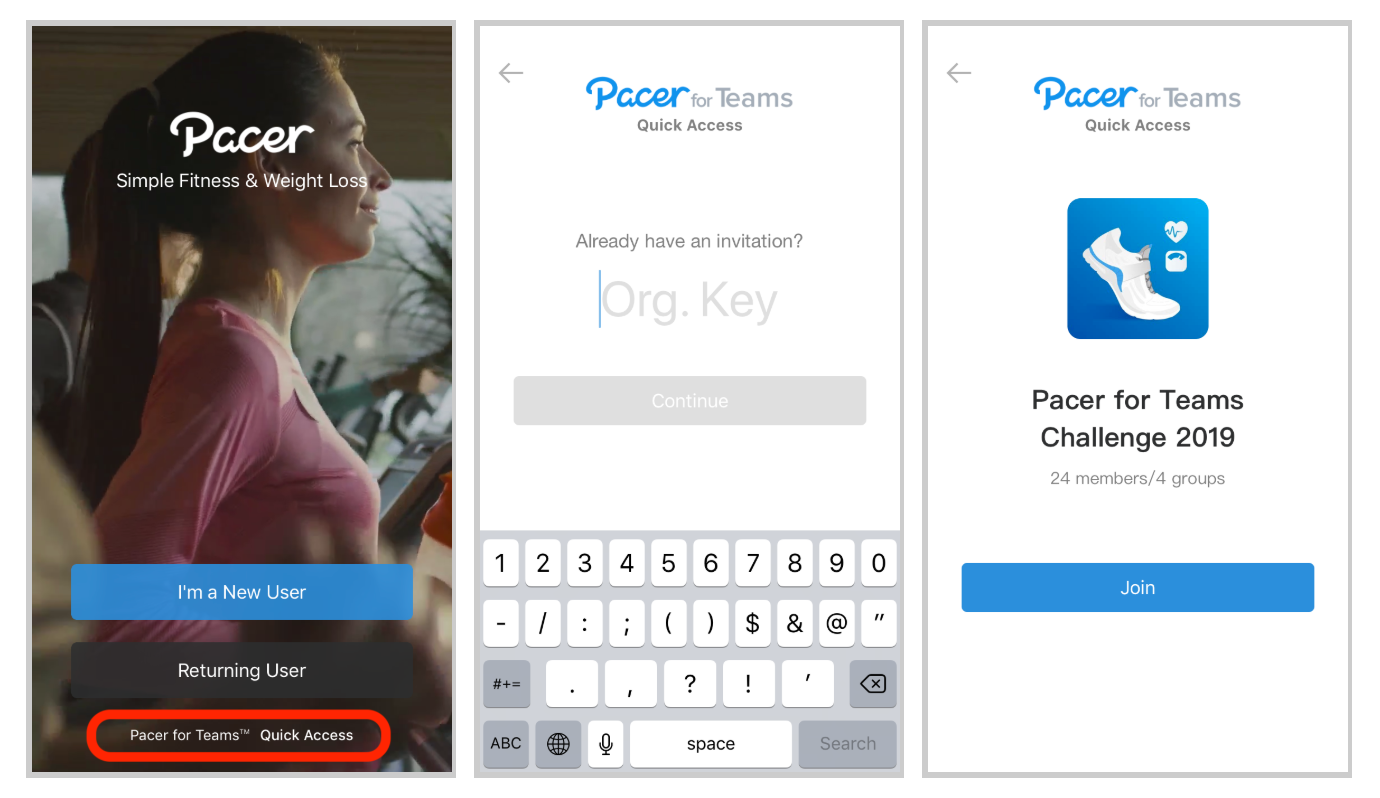 If Admins have already created groups in the P4T Admin platform, participants will see the available groups in the Pacer app and are asked to choose the correct one. If by chance a person chooses the incorrect group, Admins can reassign someone at any time or can allow participants to change groups by turning On the Join Teams function in the Settings menu.