Here are the basics for setting up your P4T Admin platform, inviting participants to a challenge, and starting the challenge.
You will need:
A desktop/laptop computer and web browser - to manage the Pacer for Teams Admin challenge platform as an Admin.

Android or iOS smartphone - to download Pacer and track activity data for P4T virtual challenges as a participant.

A positive attitude and a friendly, competitive spirit.

15-20 minutes.
Provide basic information to create a Pacer for Teams Organization (P4T Org for short) on our Pacer for Teams website. This is your private virtual event space in the Pacer app universe. You create challenges and teams here, invite participants, access activity data, and more.
Pacer is the world's biggest online walking platform. Participants can be anywhere on planet Earth as long as they periodically have a cellular or Wifi signal to upload activity data.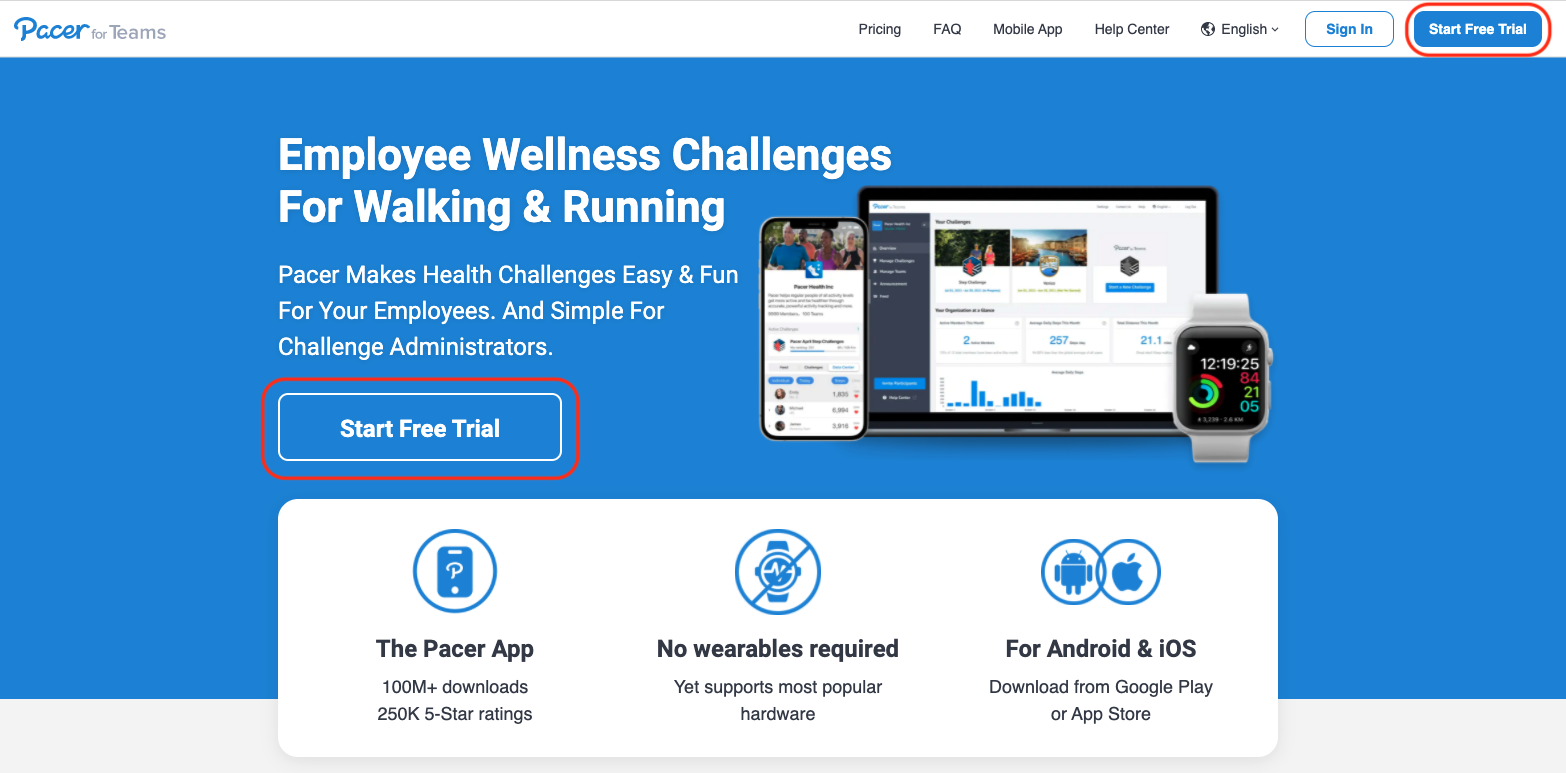 Every new P4T Org defaults to the free trial version, which gives you all Enterprise features for 14 days. You can invite up to 20 participants and create as many challenges as you'd like during the free trial period. You can skip the free trial period at any time to purchase an upgrade either by self-pay or with the help of a Pacer for Teams rep.
Each P4T Org has one account owner with a linked name and email address. You can invite more Admins to assist with challenges for free and with ease.
Upload icons, background photos, and app button colors to create a brand experience. Create an easy invite org code for participants to join your org. Adjust high-level admin and participant permissions, such as allowing new users to join.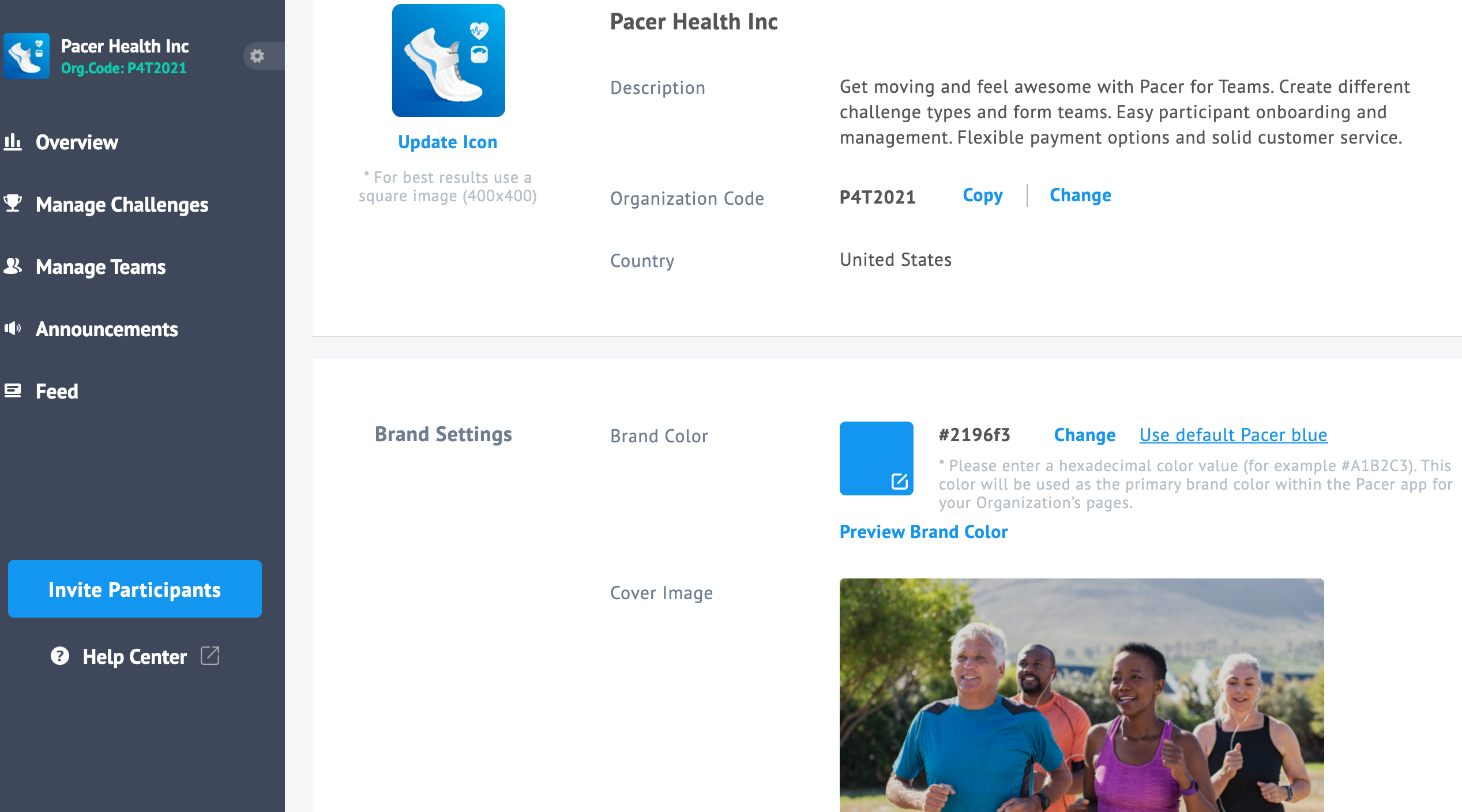 You can purchase P4T Enterprise subscriptions in user price tier ranges in 1-month increments. If you know how many participants you will have, you can pay for and manage your P4T Enterprise subscription in your P4T org settings. If you are unsure, contact us for Enterprise activation and payment options.

3. Create teams based on your challenge type and goals.
Admins can create teams in the Admin platform at any time. Admins can also allow participants to create teams. There is no team number limit and no team size limit. Team creation is optional.

If you do not create teams, everyone automatically joins the default org team.

If you create teams before inviting anyone, participants must choose a team from a list.

You can invite participants to the org first, create teams, and then move participants.
4. Create and publish challenge(s).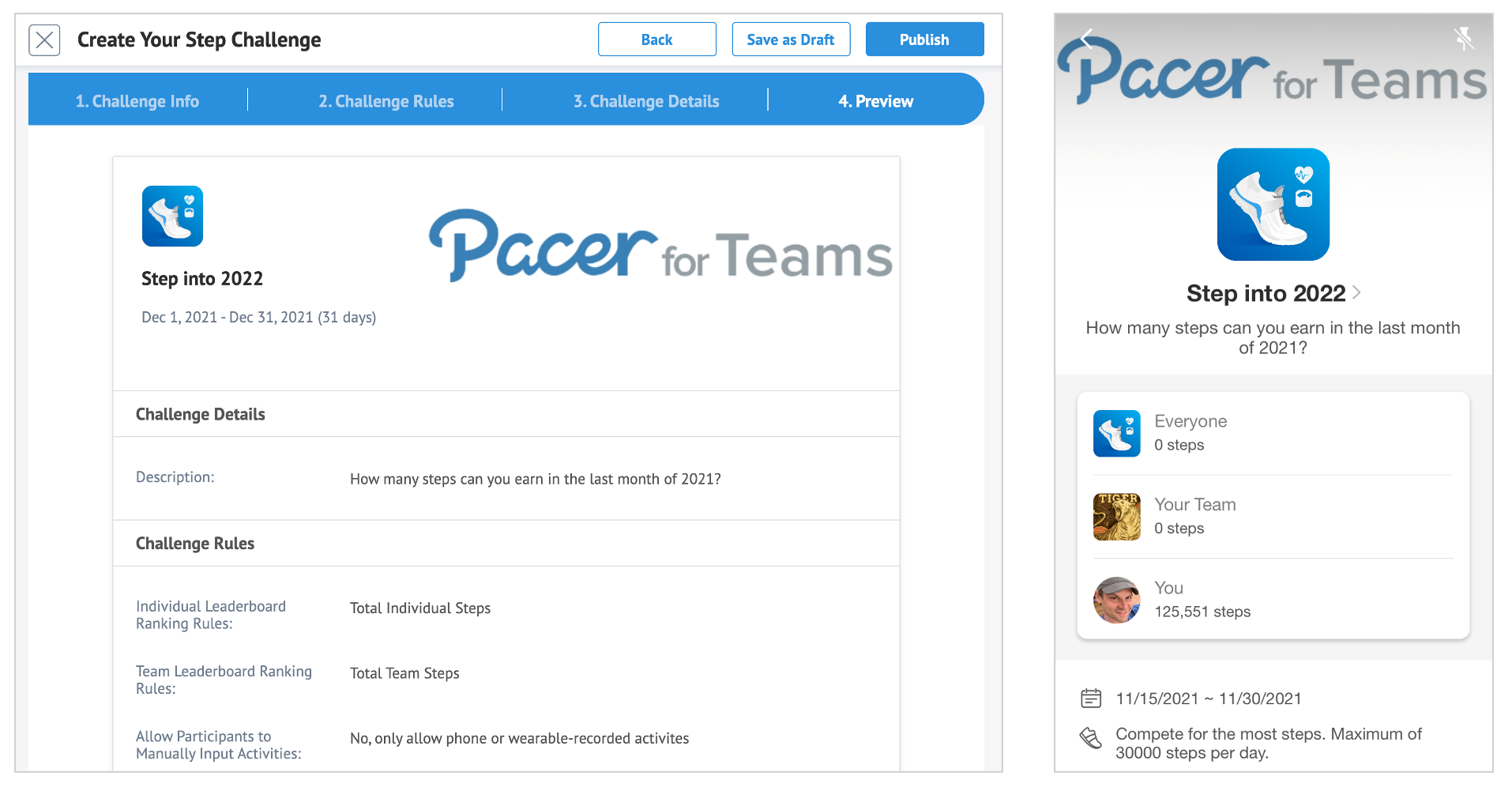 5. Download Pacer and practice onboarding.
Invite a few others, especially if your company or organization spans many world time zones.
Your P4T has one participant invite code. Share the org code, QR code, or invite link that helps participants download Pacer and join the challenge.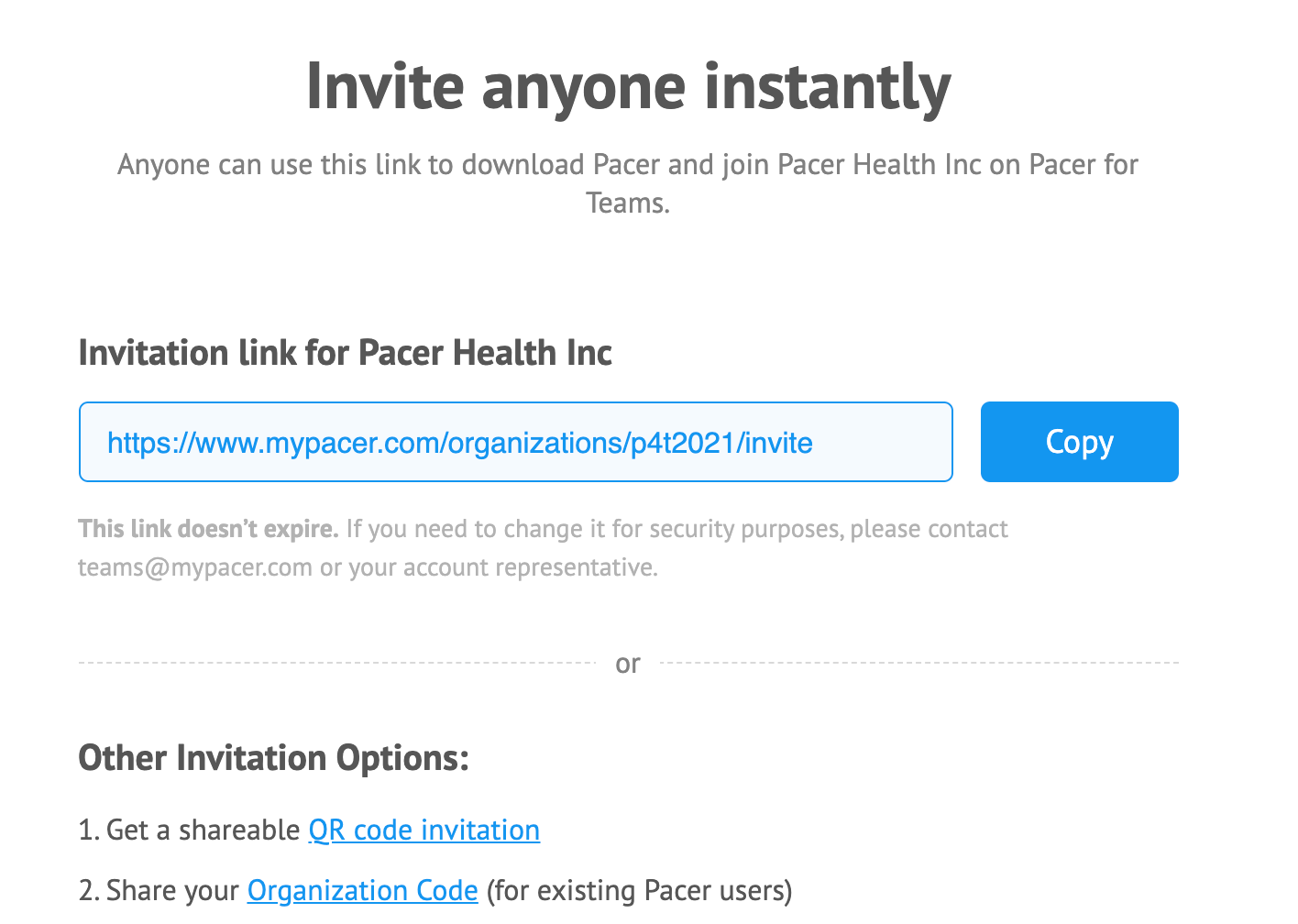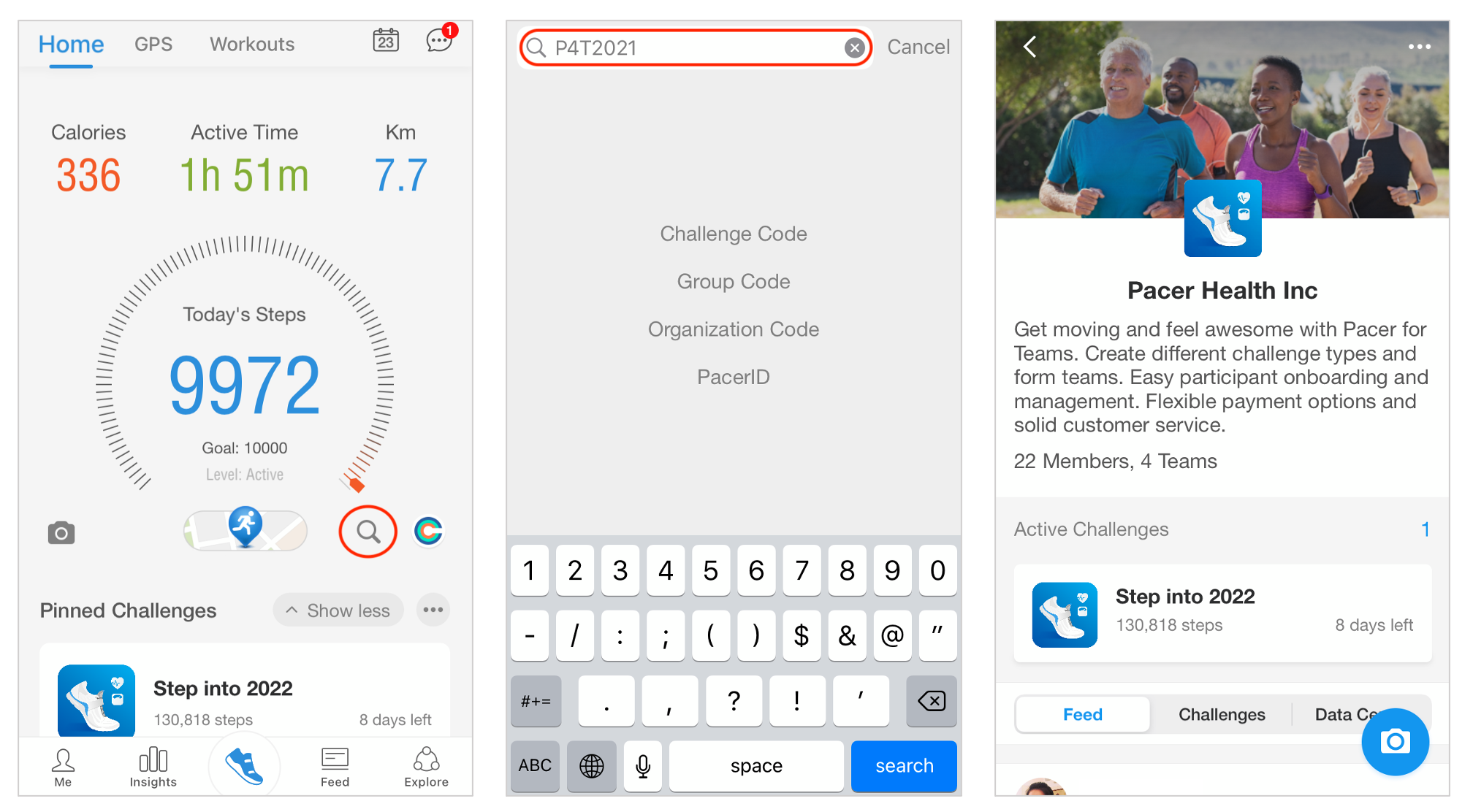 7. Get Moving!
Participants can begin syncing data in Pacer whether there is an active challenge. Once a challenge start date arrives, the leaderboard goes live. You can follow along in the admin platform or join the challenge yourself. View and export the challenge data whenever you'd like.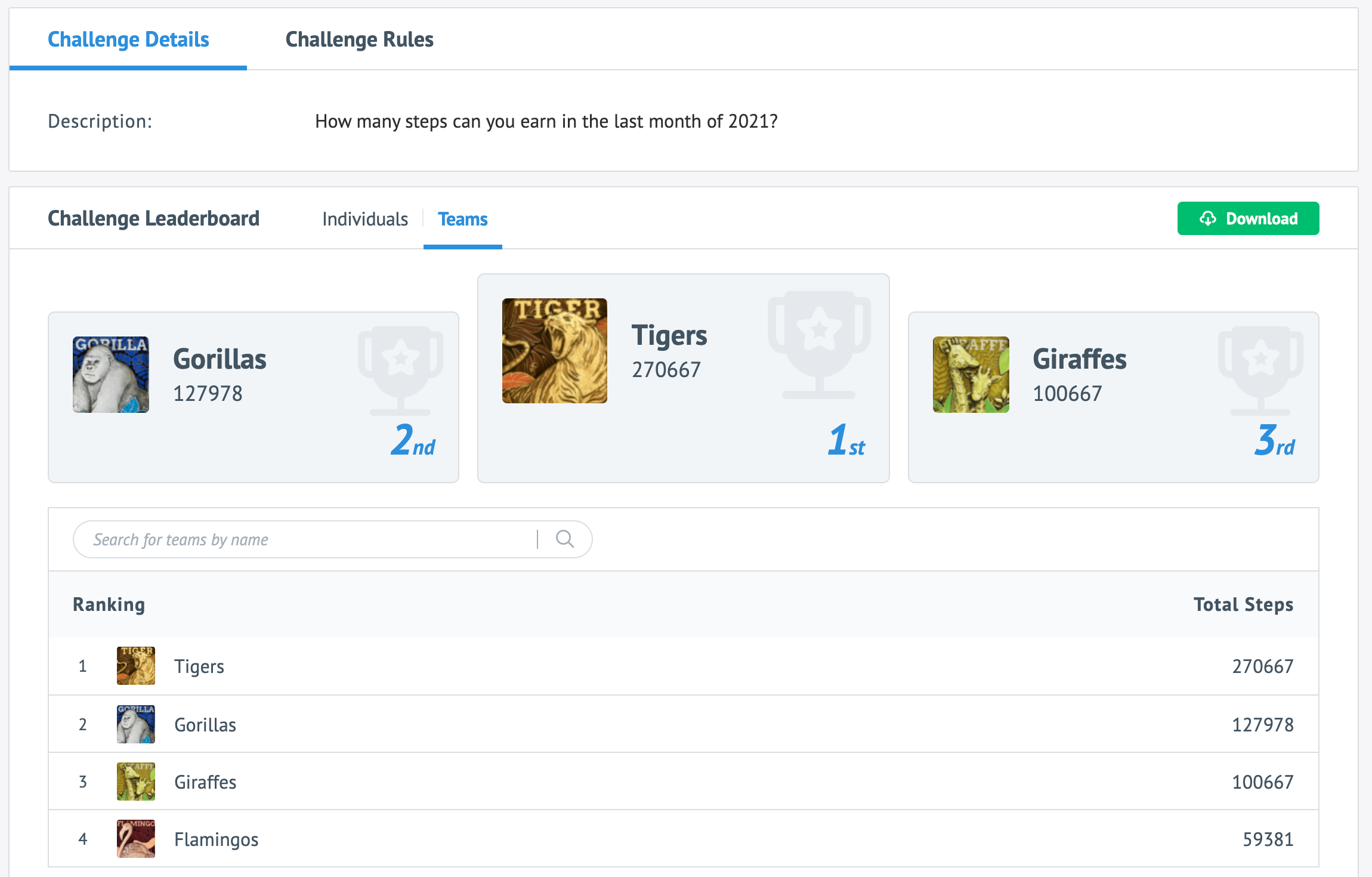 For additional questions, free trial information, and live product demos, contact teams@mypacer.com.