What's included in the cost? Do I need to pay for Premium?
The registration price includes access to your chosen challenge in Pacer App, the medal, E-certificate, shipping, etc. You don't have to upgrade to Pacer Premium because the code you receive at checkout allows you to participate in the challenge (and bypass the Premium requirement). Our Pacer Premium has many advanced features, such as training courses, fitness plans and walking programs, you can use Premium membership to explore more! When opening the application for the first time, you may be prompted with an "Upgrade to Advanced" screen. If you want to try our advanced features, you can upgrade as needed. You can also skip it and start the challenge with no barrier.
Here is a screenshot to guide you:
P.S. Please be sure to cancel your free trial if you've taken one by mistake to avoid unwanted charges! :)
Do I have to complete all the mileage in one workout?
No. Pacer challenges are designed so everyone can challenge themselves at a pace and effort level that they are personally comfortable with. Each time you complete a distance-based exercise activity such as running or walking (or input biking/ kayaking activity), you will advance along the virtual map. Some people complete challenges at once, some use them as incentive to follow training schedules, and some use them as motivation to just start moving.
Can I register more than one challenge?
You can register as many challenges as you want. Each code is separate from others and you can register any time you want.
Can I join as a group?
Of course you can join as a group! To form a group challenge, one person must be the "host" while the others "participants". Participants should quit existing challenges if in any. All of you must have signed up for the SAME challenge.
Steps:
The host sets up the time frame & rules and creates the challenge. Tap the "share" button on the top right corner of the challenge.

The host shares the challenge with participants (Share Code/ Link, both works)

The participants locate the challenge created by the host. Tap join and enter their Registration codes
*Note that "Registration Code" is for people to get into a challenge (like a ticket), while the "Share Code" is only for people to locate a challenge (like postal code).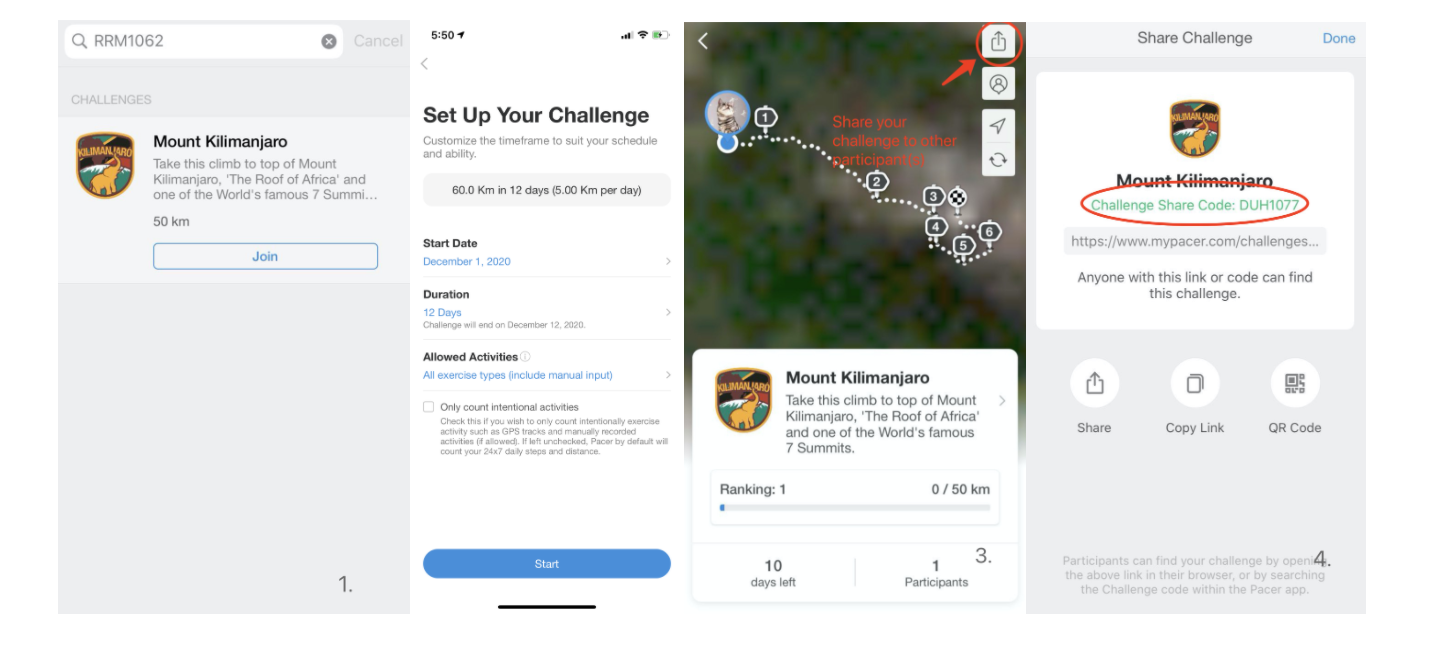 What should I do after finishing my challenge?
Congratulations on pulling through and completing the challenge on time! We are automatically notified so there is nothing more you need to do. Please rest well and allow a few days for our logistics staff to get the medal properly packaged and sent off to the third party shipping provider. You'll receive an email with tracking info once our logistics staff send your parcel to our third party shipping provider.
Can I do this from anywhere? What types of exercise count?
You can complete your challenge anywhere. Earn progress toward this challenge by using Pacer to track your walks, hikes and runs. Any activity tracked by our app (your phone) will count toward your progress. If you wish to complete the challenge on a transportation device such as a bike or kayak, please manually input this activity.
Can I connect to a third party device?
Yes, you can! We do accept connections with Fitbit & Garmin, iOS: Apple Health and Apple Watch and Android: Google Fit. You can find more details on this page.
Gift a challenge
There are two options for gifting a challenge:
We are currently selling gift cards! You can purchase

on this page

. After purchasing a gift card for your friend, he/she can use the code of this gift card to purchase a challenge. When redeeming a gift card, he/she needs to enter his/her own address as the delivery address. In this case, you only need to enter a billing address, not a shipping address.

When purchasing a specific challenge for a friend, you can leave your friend's email and shipping address, the confirmation email with the registration code will be sent to his/his email, and the medal will be sent to her/his shipping address. If you want to surprise your friends, please make sure to leave your own email address at the checkout to receive the confirmation email.
Payment
Payment methods we accept:
Credit Cards, PayPal, Apple Pay, Google Pay, and Shop Pay.
If you are having trouble making the payment, please try the following measures:
Check for credit limit / spendable balance in your paying account and make sure it's been authorized for oversea transactions;

Make sure your network is stable and try again;

Try another card or payment method that we support at checkout;

Contact your bank for help.