What's included in the cost? Do I need to pay for Premium?
The registration price includes access to your chosen challenge in Pacer App, the medal, E-certificate, shipping, etc. You don't have to upgrade to Pacer Premium because the code you receive at checkout allows you to participate in the challenge (and bypass the Premium requirement). Our Pacer Premium has many advanced features, such as training courses, fitness plans and walking programs, you can use Premium membership to explore more! When opening the application for the first time, you may be prompted with an "Upgrade to Advanced" screen. If you want to try our advanced features, you can upgrade as needed. You can also skip it and start the challenge with no barrier.
Here is a screenshot to guide you:
P.S. Please be sure to cancel your free trial if you've taken one by mistake to avoid unwanted charges! :)
Do I have to complete all the mileage in one workout?
No. Pacer challenges are designed so everyone can challenge themselves at a pace and effort level that they are personally comfortable with. Each time you complete a distance-based exercise activity such as running or walking (or input biking/ kayaking activity), you will advance along the virtual map. Some people complete challenges at once, some use them as incentive to follow training schedules, and some use them as motivation to just start moving.
Can I register more than one challenge?
You can start multiple challenges at the same time as long as they are different. Because there's no way to separate out the mileage, your activity distance will be counted towards all the ongoing challenges. We'd suggest that you finish them one by one.
Street View
Pacer adventure challenge now support a street view function in the challenge page.
Please go to your challenge page and click the blue icon on the map;

You will be able to see the street view of your challenge as follows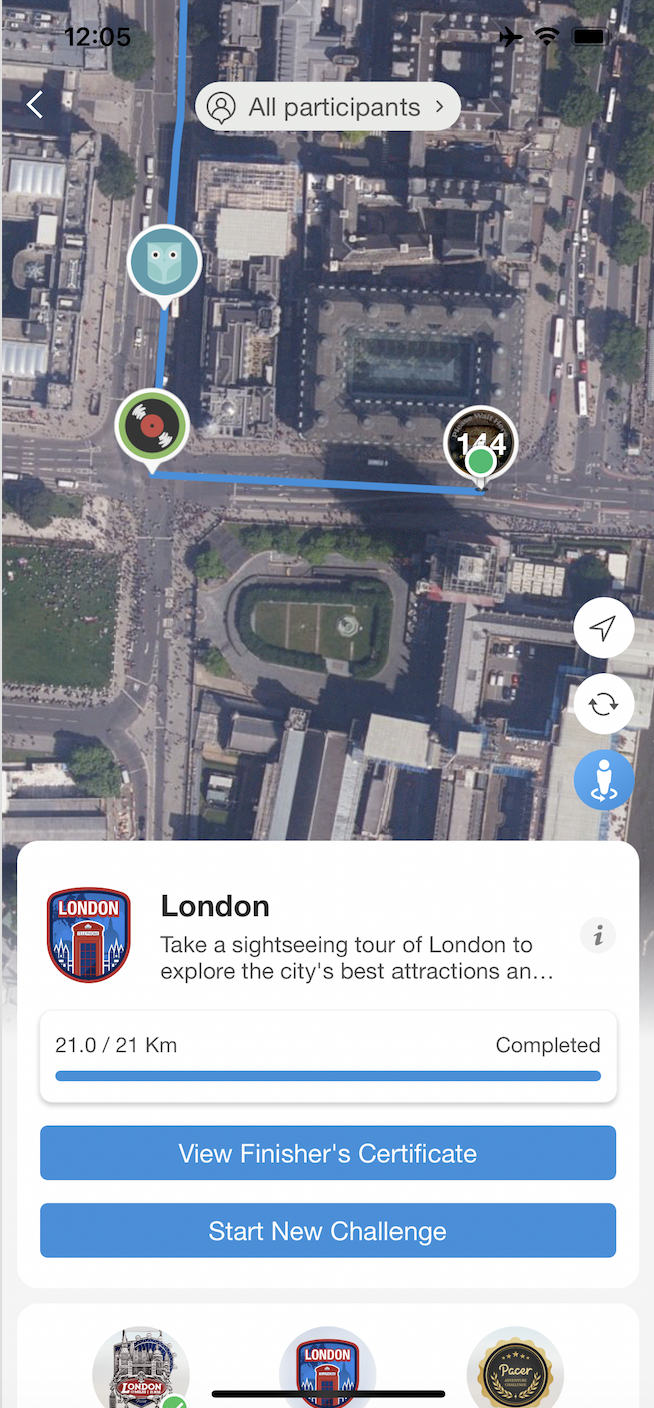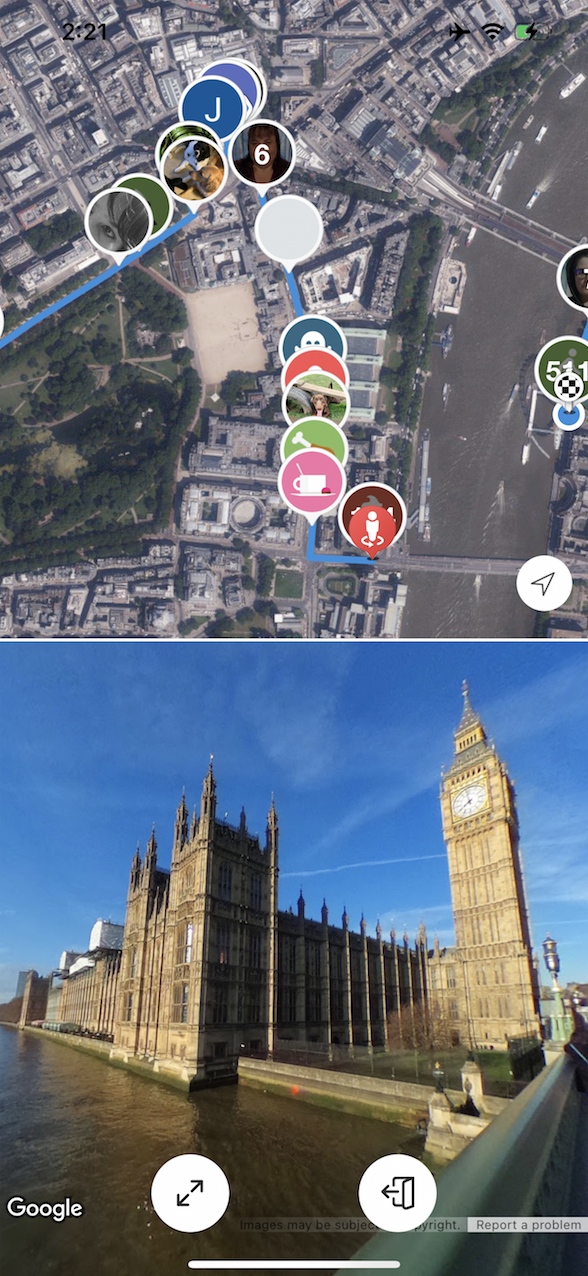 *Note: You can click the arrow icon to enlarge the street view page. Also you can exit the street view by clicking the door icon.
Can me and my friends participate together?
Of course! Once you and your friends have registered for the same adventure challenge, you can easily checkout each other's progress on the adventure map.
First connect with your friends in Pacer app by either following them or forming a group with them. Then at the challenge page, use the "viewing" feature to choose who you want to see on the map. By default, you will see everyone including your friends in the challenge. You can filter them out:

-People I follow: choose this to only show participants you are following on pacer;
-My Group: If you and your friends are in the same group, choose "My Group" and select the group you are both in.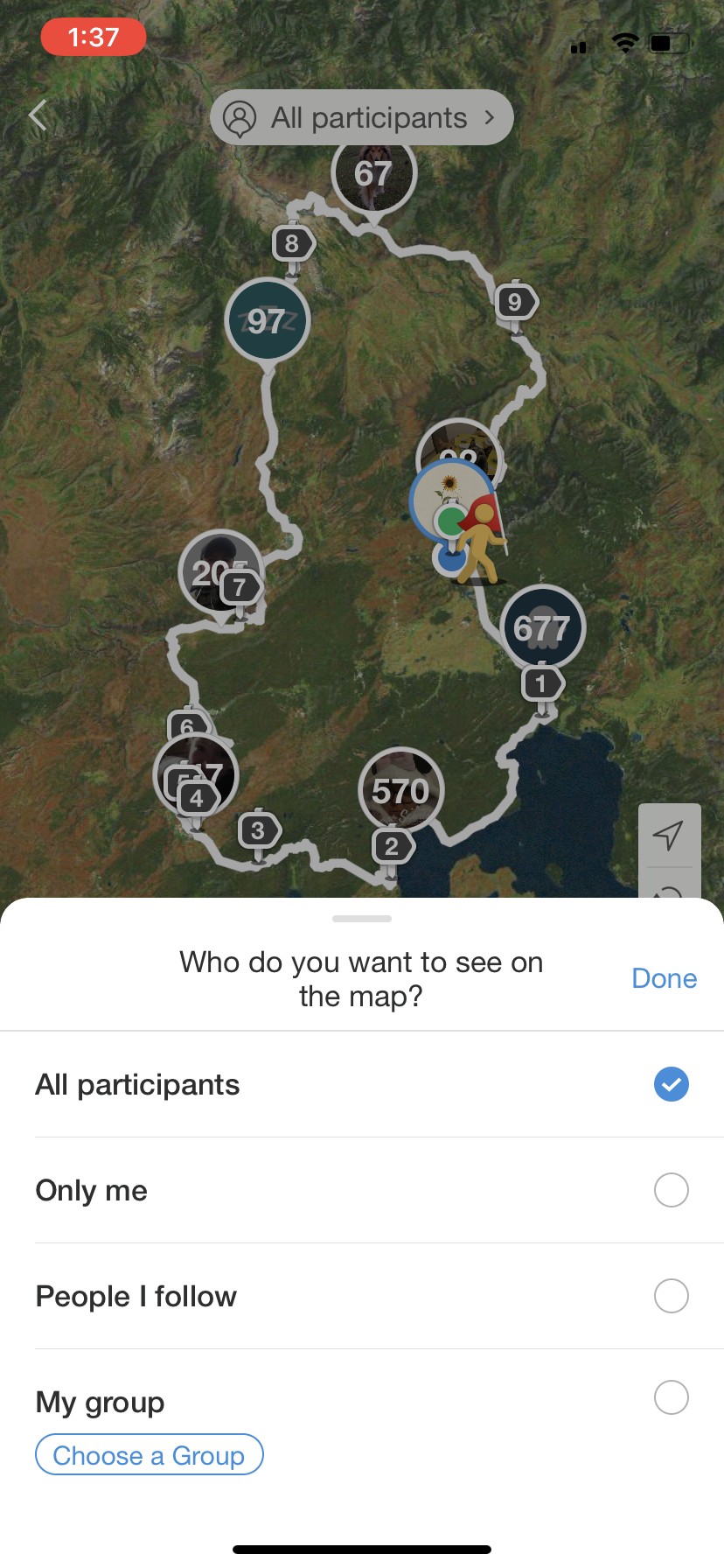 *Note that each of your friend is required to purchase their own registration code for the challenge.
How to set up a group
Please follow the steps on this page to create a group and you will be able to select your group in your challenge page. Then you can see the group members who are participating this challenge under this selection.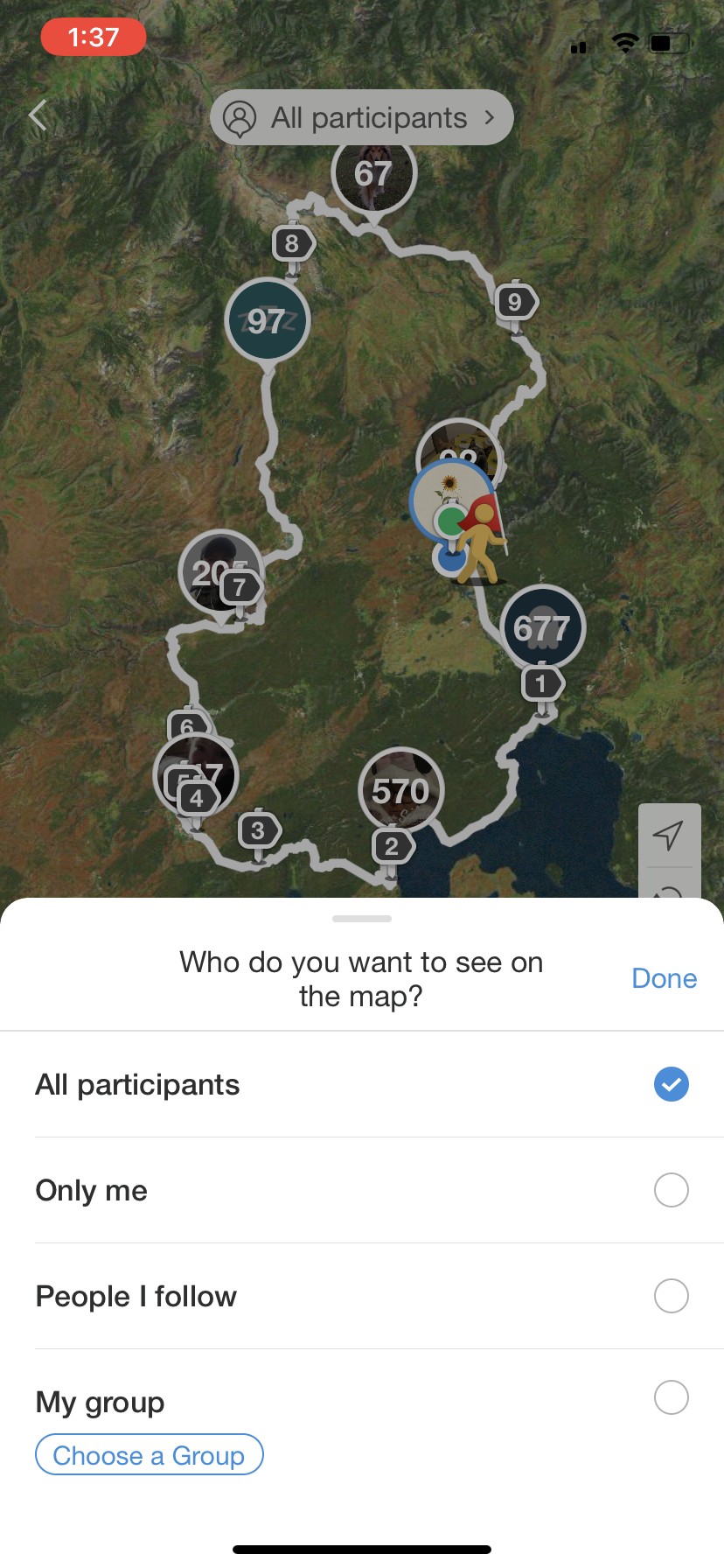 How to follow your friends
Here are the steps to follow a friend:

Click the Search icon shown in your home page;

Enter his/her Pacer ID;

Find him/her and click "Follow"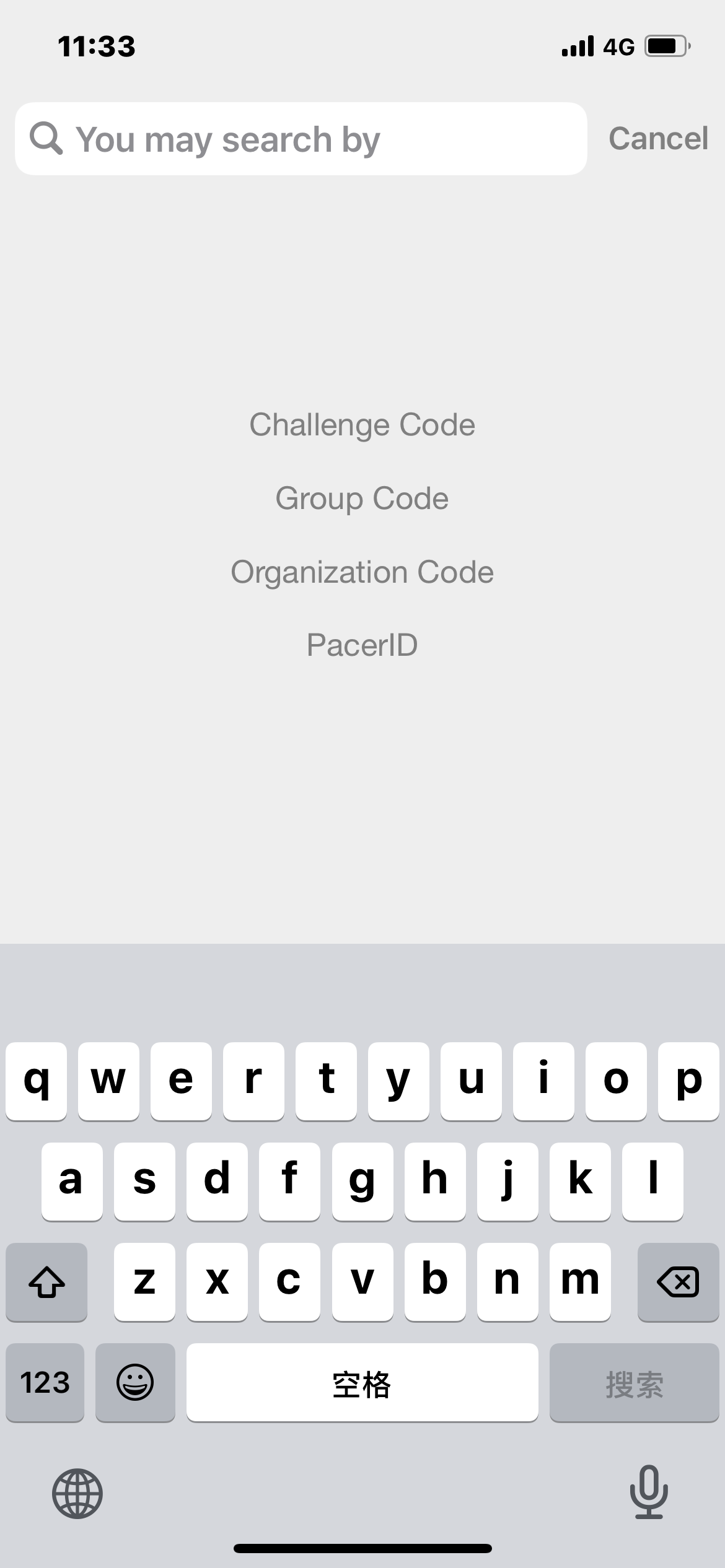 You can also go to your Me page-->Click Find Friends:
Add a friend by sharing the invite link;

Add your Facebook friends;

Add your Contacts friends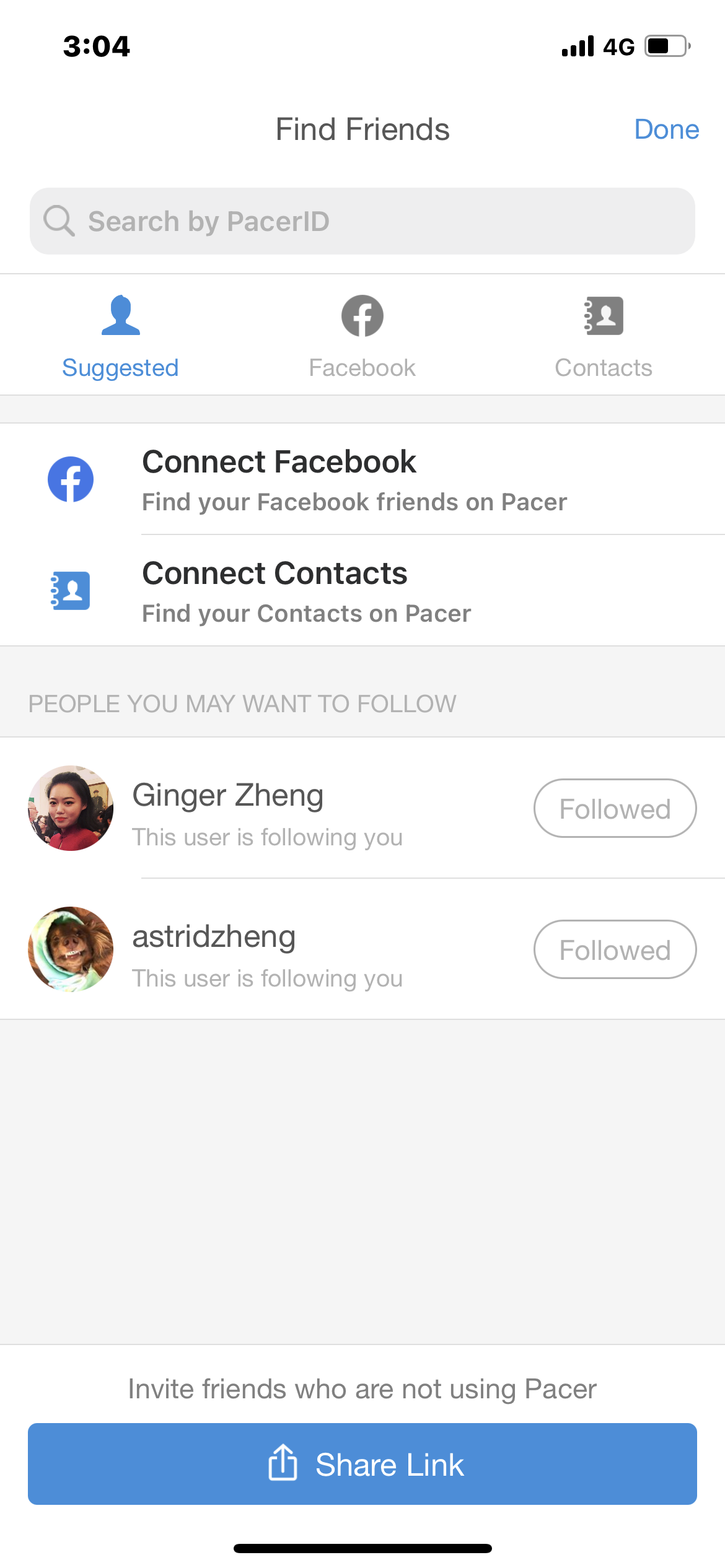 For the multi-person challenge inherited from the older app version:
You can still access the old view by selecting "in the same challenge" option. Everyone will be there.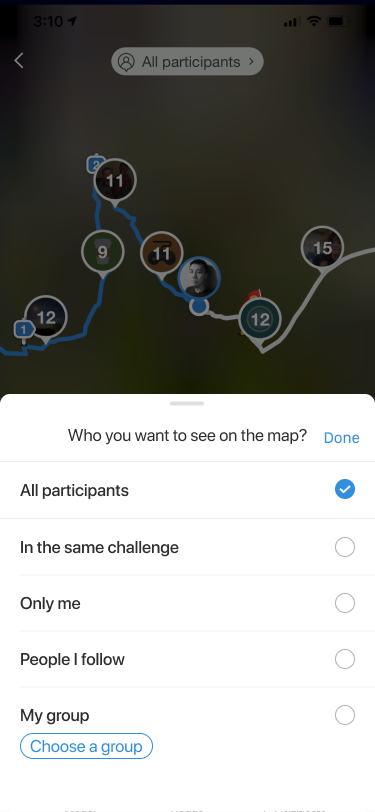 *Note that if you start a challenge after updating your Pacer to the latest version, you won't see this option anymore on the new challenge map.
What should I do after finishing my challenge?
Congratulations on pulling through and completing the challenge on time! We are automatically notified so there is nothing more you need to do. Please rest well and allow a few days for our logistics staff to get the medal properly packaged and sent off to the third party shipping provider. You'll receive an email with tracking info once our logistics staff send your parcel to our third party shipping provider.
Can I do this from anywhere? What types of exercise count?
You can complete your challenge anywhere. Earn progress toward this challenge by using Pacer to track your walks, hikes and runs. Any activity tracked by our app (your phone) will count toward your progress. If you wish to complete the challenge on a transportation device such as a bike or kayak, please manually input this activity.
Can I connect to a third party device?
Yes, you can! We do accept connections with Fitbit & Garmin, iOS: Apple Health and Apple Watch and Android: Google Fit, Samsung Health. You can find more details on this page.
Gift a challenge
There are two options for gifting a challenge:
We are currently selling gift cards! You can purchase

on this page

. After purchasing a gift card for your friend, he/she can use the code of this gift card to purchase a challenge. When redeeming a gift card, he/she needs to enter his/her own address as the delivery address. In this case, you only need to enter a billing address, not a shipping address.

When purchasing a specific challenge for a friend, you can leave your friend's email and shipping address, the confirmation email with the registration code will be sent to his/his email, and the medal will be sent to her/his shipping address. If you want to surprise your friends, please make sure to leave your own email address at the checkout to receive the confirmation email.
Payment
Payment methods we accept:
Credit Cards, PayPal, Apple Pay, Google Pay, and Shop Pay.
If you are having trouble making the payment, please try the following measures:
Check for credit limit / spendable balance in your paying account and make sure it's been authorized for oversea transactions;

Make sure your network is stable and try again;

Try another card or payment method that we support at checkout;

Contact your bank for help.
Referral Program
Get 30% off any Pacer Challenge for every 2 people you refer!!
Send this link to your family, friends or even post it online in a forum or group; They will also get 10% off on any Pacer Challenge!
Terms and Conditions:
Referral means any new user besides yourself who register for a virtual challenge by first clicking on your link and then purchasing a challenge on our website.
All sales are final. Unless there is a technical error with our website, we do not manually allocate referral rewards to your account in any event.
Referral tracking relies on 'cookie' tracking on a person's device. If the person clears their cookies or signs up on a different device, then the tracking will not work and no referral will be recorded or applied to your account.
Referrals will be examined by our admin system. Referrals that do not meet the requirements will be disavowed.
Pacer reserves the right to alter, cancel or pause the referral program at anytime without notice.