In the Pacer for Teams platform, teams are based under a P4T organization (org). The P4T platform offers step and distance challenges with both individual and team leaderboards. This article will provide some tips for planning and setting up your challenge if you'd like to create a team competition.
Team Creation - Admins and Participants
For newly registered orgs, admins can create teams on their own in the Manage Teams menu.
If your challenge includes dozens of teams, entering them all manually might be quite a lot of work (you can add 10 at a time). Therefore, P4T provides a team setting in the admin platform to allow participants to create a team when they first join the org.
Click the Org Settings icon and scroll down to Team Settings.

Once a participant creates a team, he/she will become the team's captain and can help manage the team. For example, team captains can edit the team name or avatar, disband the team, etc., before the challenge starts.
August 2, 2023: To create teams, participants must have the most recent version of Pacer (iOS: 8.7.2, Android p10.6.1).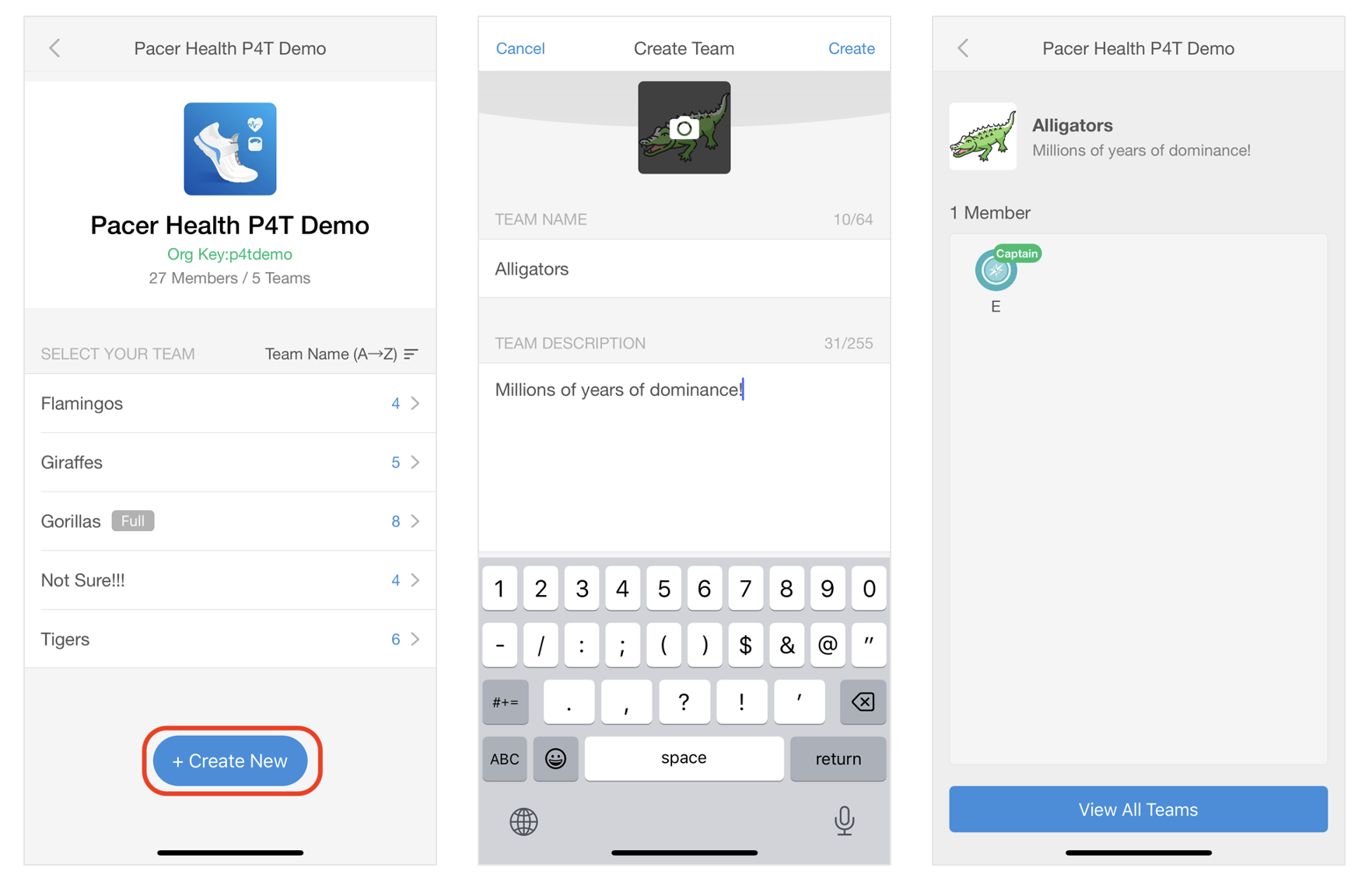 Org admins can access, edit and delete participant-created teams anytime in the Manage Teams menu during an active P4T subscription. Admins are the only ones who can edit a team name after a challenge starts.
Team Size Limit
Admins can set a team size limit for the org to avoid super teams and ensure each team has the same maximum number of members for a fair competition. For teams that have reached the size limit, new members won't be able to join, and they'll see a window informing them that the team is full.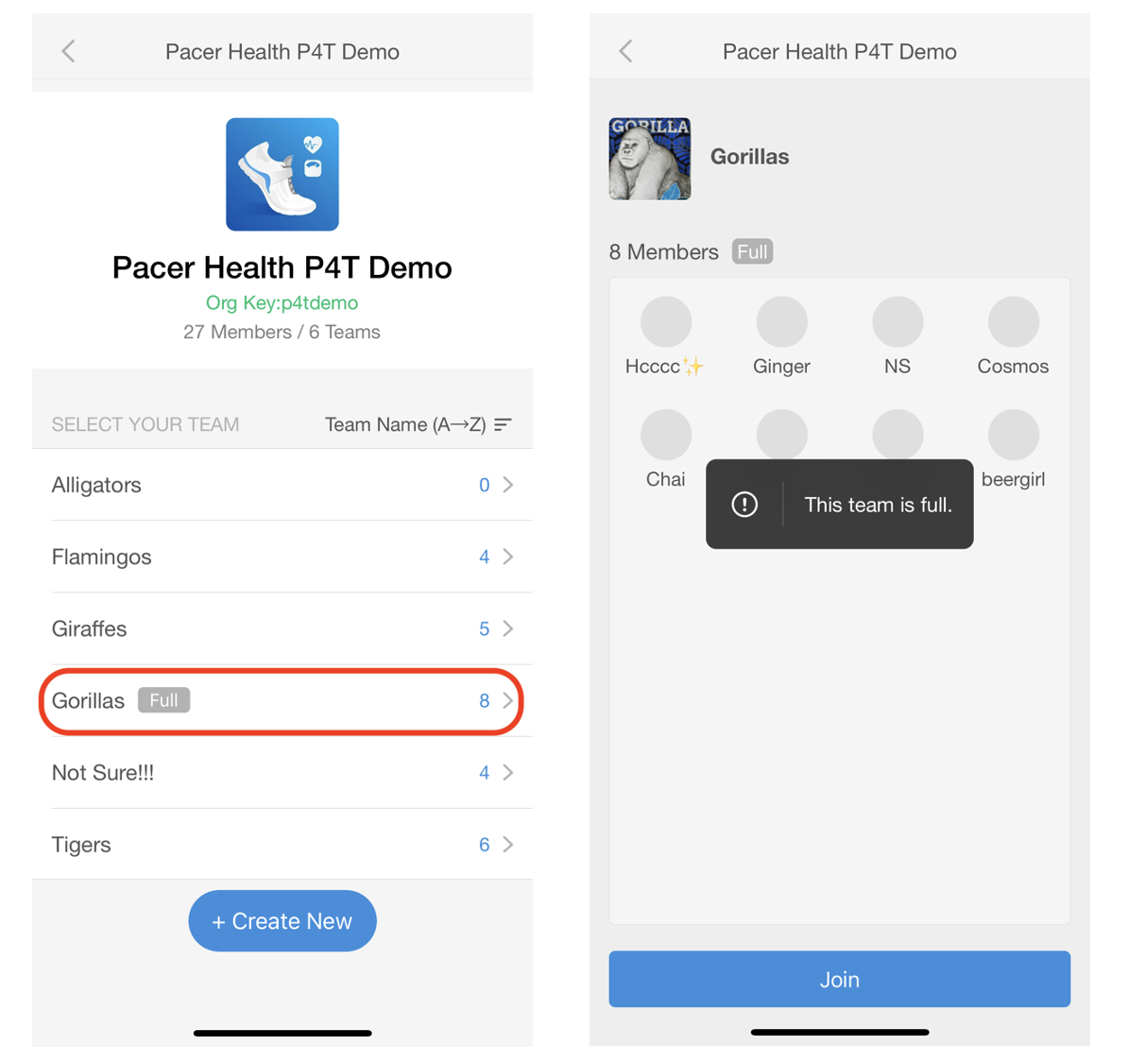 Enforce a Team Minimum
It's typical for teams to be made up of an uneven amount of participants. One team may have 6 members, while another will have 15. We recommend enforcing a minimum number of users on each team. Teams with only 1 individual will solely reflect that user's average—giving them an unfair advantage. The last thing you want is a team of 1 who happens to be a marathoner.
Although the P4T platform does not have a team minimum setting, once you've decided this minimum (we suggest 3-4 members), make sure to include this in your initial communications, along with the details on how you'll handle a team that does not meet the minimum requirement. It's essential to set the precedent in the initial communications.
Example: Should your team have a minimum of 3 users by [X] date, we will delete your team and move all members to other teams.
Team Leaderboard Ranking Rules
You can choose how teams are ranked for your step/distance challenge when setting up your challenge. For example, we provide two choices for admins to rank teams in a step challenge: Total Team Steps and Average Steps per Team Member.

1. Teams are ranked by total steps taken by all team members (default setting).
If the admin chooses this ranking rule, the team leaderboard will display the sum of each team member's steps during the challenge period. This is ideal if all teams have a similar number of active participants.
2. Teams are ranked by the average steps per team member.
If the admin chooses this ranking rule, the team leaderboard will display the average of each team member's total steps, which is the sum of all team member steps during the challenge period divided by the total number of team members. Since the final score is based on an average, this can be a fairer way to score if teams have different numbers of participants.
Hide Team Leaderboard
For some organizations and challenge designs, admins want participants to avoid seeing each other on the leaderboard and who is leading the challenge. If this is the case, admins can hide individual leaderboards, team leaderboards, or both when setting up the challenge. Please note that hiding leaderboards is only available for step and distance challenges.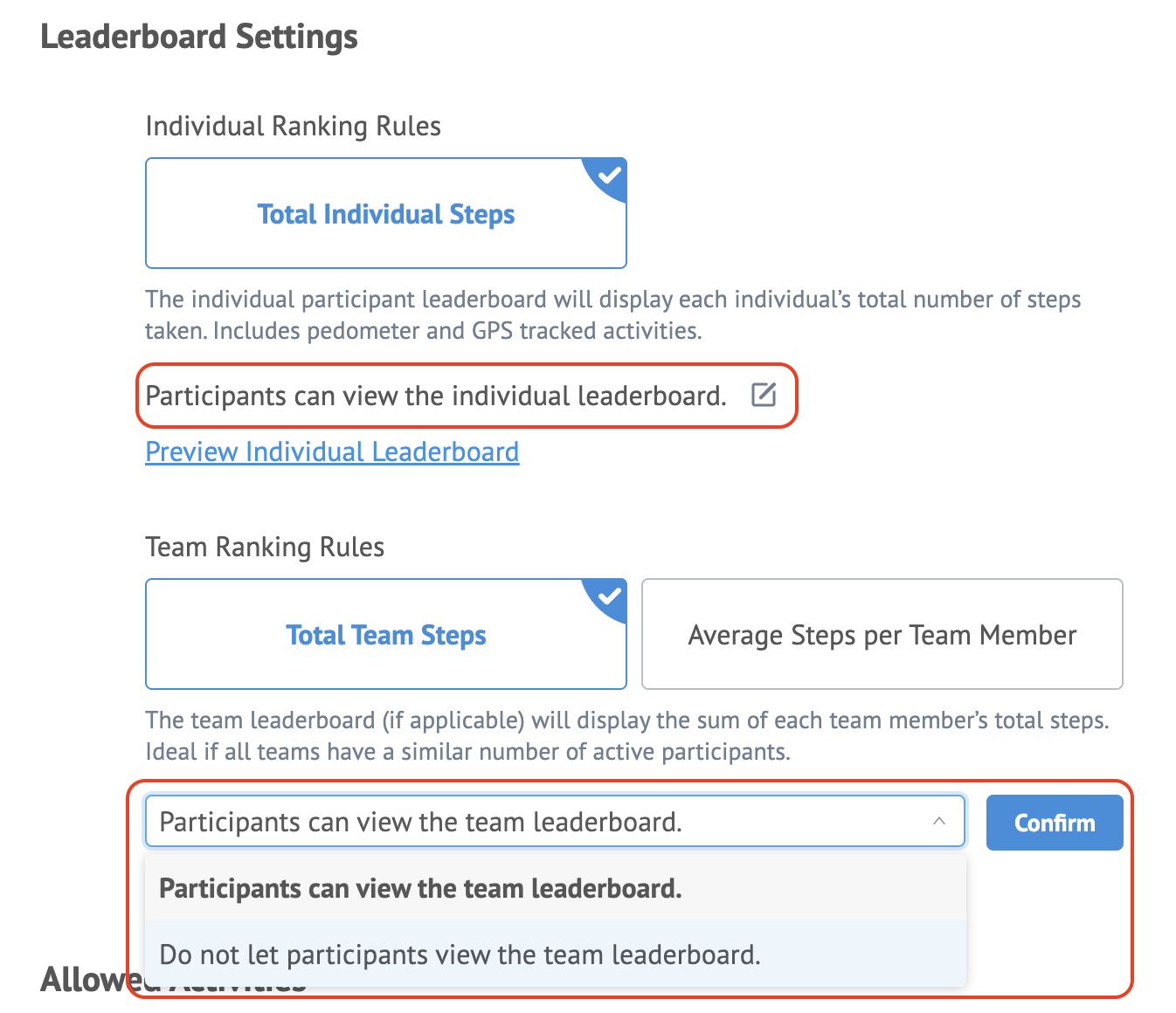 Let us know if you have any other Pacer for Teams team-related questions.