This article explains in detail how to complete a Pacer Virtual Challenge,
Virtual Challenges include:
Adventure Challenges - such as Rome, Paris, Caribbean, Mount Fuji, Jordan Trail, etc;
Fairy Tale 100K Virtual Challenges
The Sun 100K Virtual Challenge
*Virtual Challenges work differently from Virtual Races. If you need help with a Virtual Race, please refer to this article. If you are not sure which category are you having an issue with, this article might help.
Know about the rules
To complete a Virtual Challenge, you need to submit distance-based results to Pacer until you meet the goal, within the set timeframe. When you enter the challenge, you will go through a screen that displays the distance goal, timeframe, and acceptance rules.

Distance Goal
You can finish the required distance in one go or by many exercises in a long period of time. Each Virtual Challenge has its own fixed distance goal, and it's not customizable.
However, you can customize the timeframe and acceptance rules before you enter.
Timeframe
By default, each Virtual Challenge has its own recommended duration and starts on the day you enter. You can customize the timeframe to fit your pace and fitness level.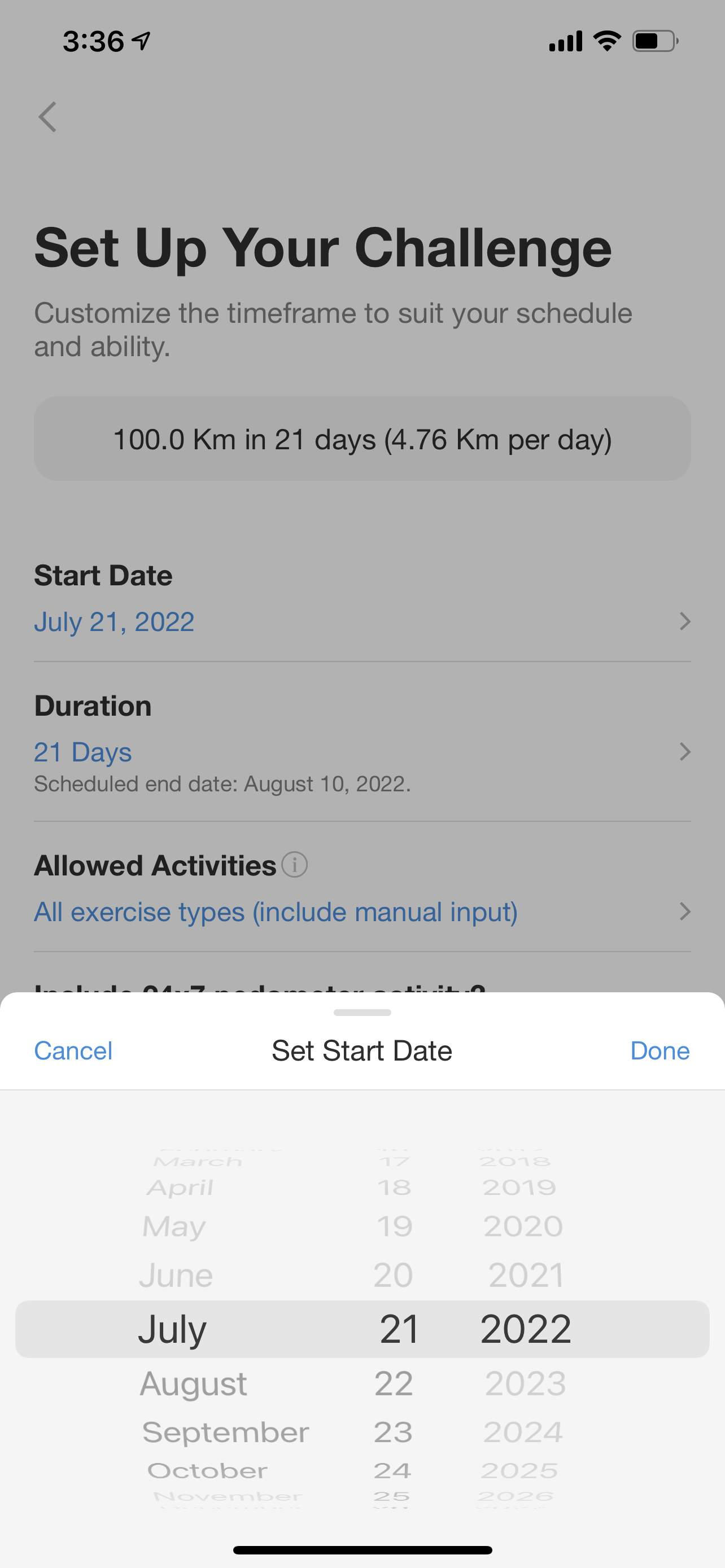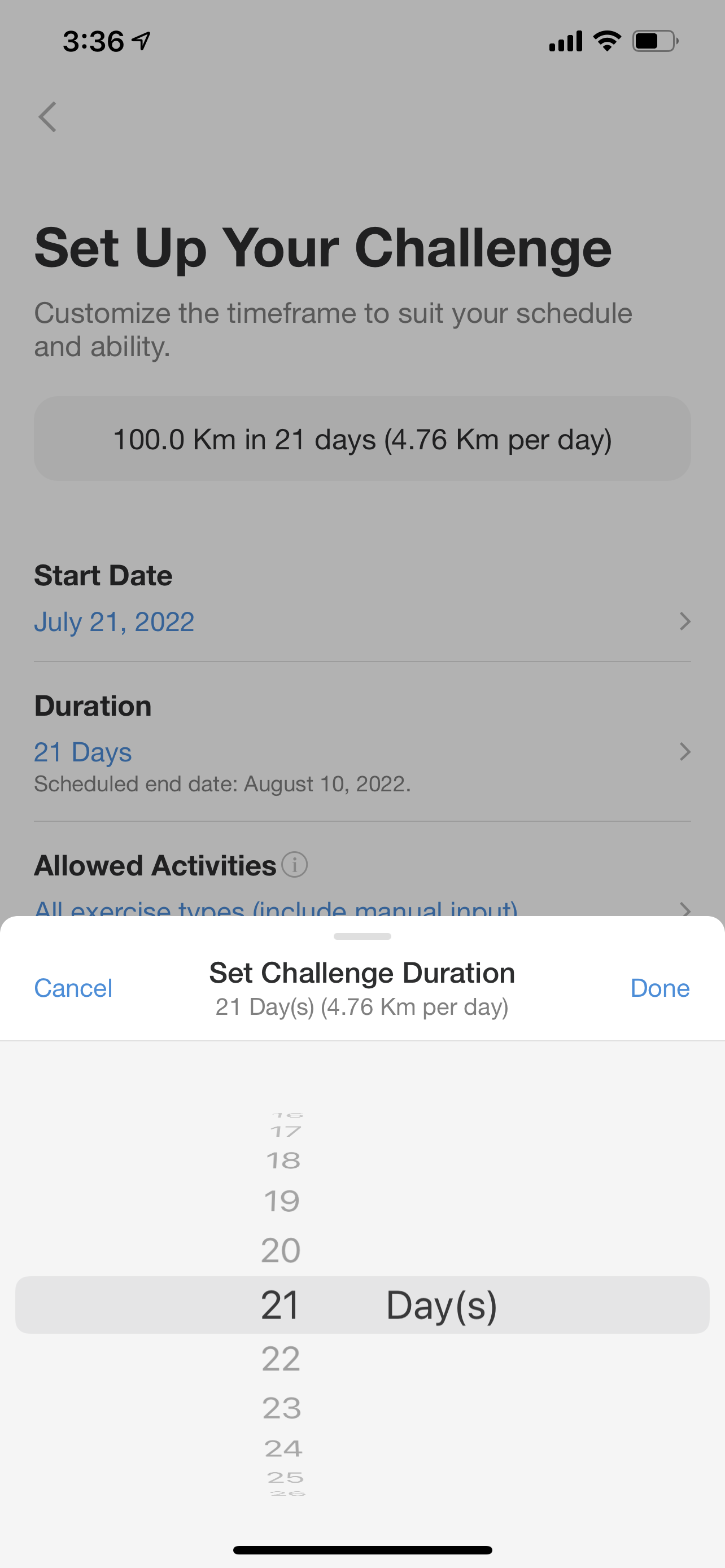 For Virtual Adventure Challenges, tap "info" in the right upper corner of the map screen to view the exact timeframe. For other types of virtual challenges (Fairy Tale Series and The Sun 100K), the timeframe can be seen directly on the detail screen.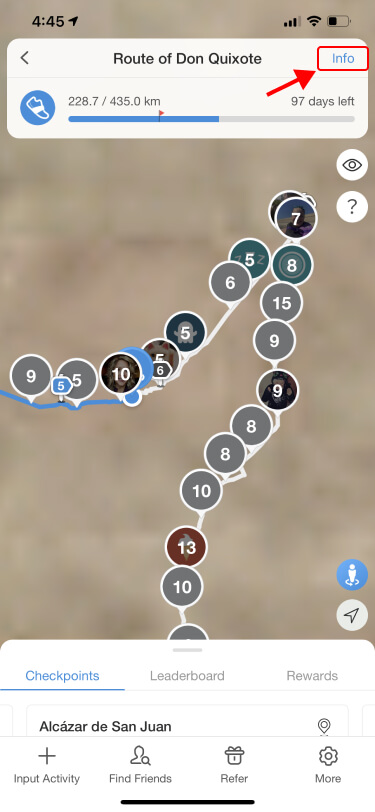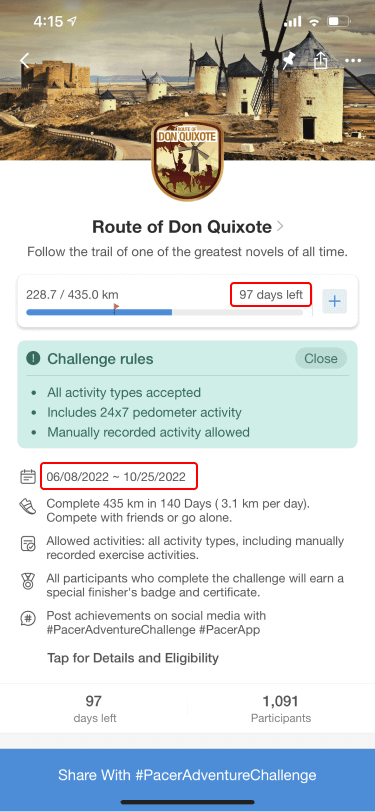 Notice that the timeframe is measured by days. For example, if you set your challenge to July 1~31, that means only exercises done from 00:01 on July 1st to 23:59 on July 31st can be counted.
Once you enter the challenge, it's not possible to change the timeframe anymore. If you need help, contact support@mypacer.com and file a request before the challenge is ended or finished.
Acceptance Rules
There are 2 sets of options to customize which exercises can be accepted.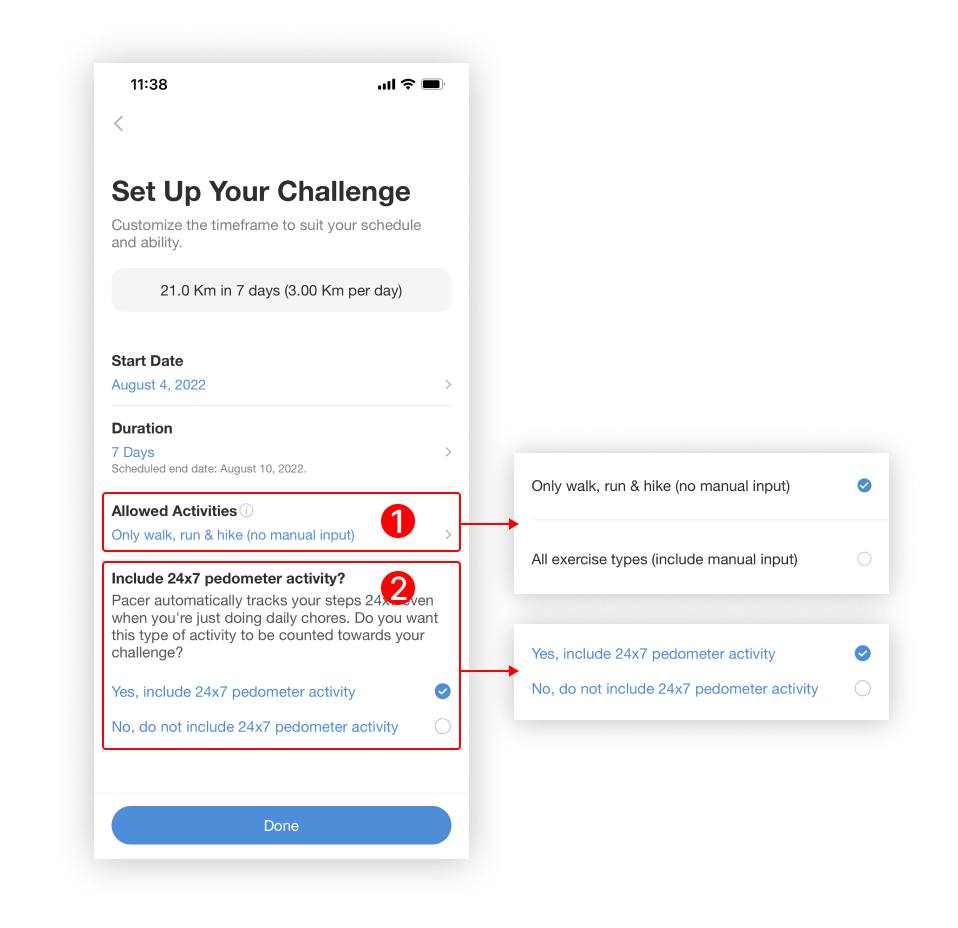 1. Allowed Activities
Only walk, run & hike (no manual input) - The challenge only accepts these 3 types of activity and they must be GPS-tracked. Manual input WON'T be accepted. If you are not familiar with GPS tracking, we recommend that you choose "All exercise types" instead.
All exercise types (include manual input) - Choose this if you wish to include manual submission or other exercise types such as bike, wheelchair, kayak, etc.
2. 24x7 Pedometer Activity
The Pacer app automatically tracks your daily steps and converts them to distance, no matter whether you are running, shopping, or doing housework. You can decide if you wish to include these distances in your challenge progress.
Yes - You'll find it convenient as you basically go on with your life and the progress automatically updates.
No - Choose this option if you prefer not to count your daily chores as "real" exercise, and these auto-generated distances won't be added to your challenge progress.
Change the acceptance rules
You can change the rules as your like before the challenge is ended or finished. The change will take effect immediately and is retrospective throughout the entire timeframe.
To change the rules, tap the "cog" at the bottom right (Virtual Adventure Challenges) or tap the "3 dots" at the upper right (other Virtual Challenges), then you will see the option "change rules".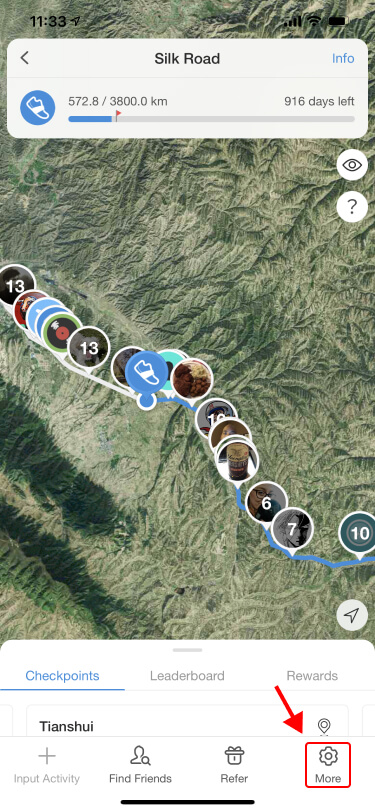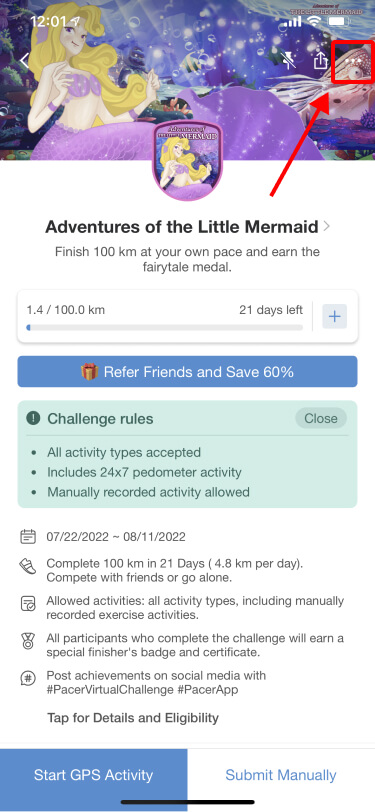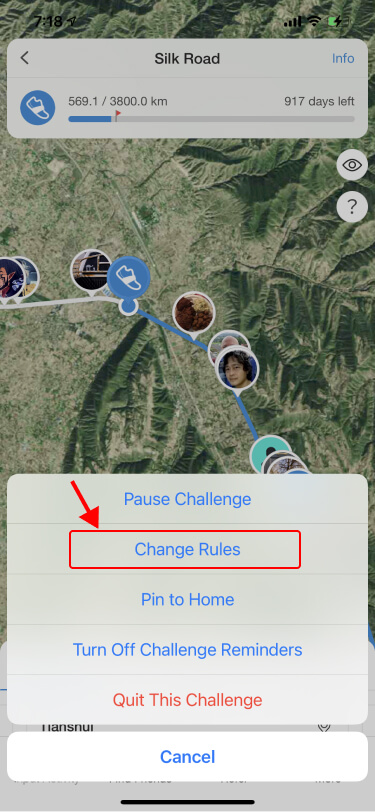 How to Submit Your Results?
There are 4 methods that you can choose from to submit your results.
Method #1: Automatic pedometer 24x7 tracking
The Pacer app automatically picks up your steps and registers the distances to your progress, as long as you have set the rule right. All you need to do is to bring your phone while you move.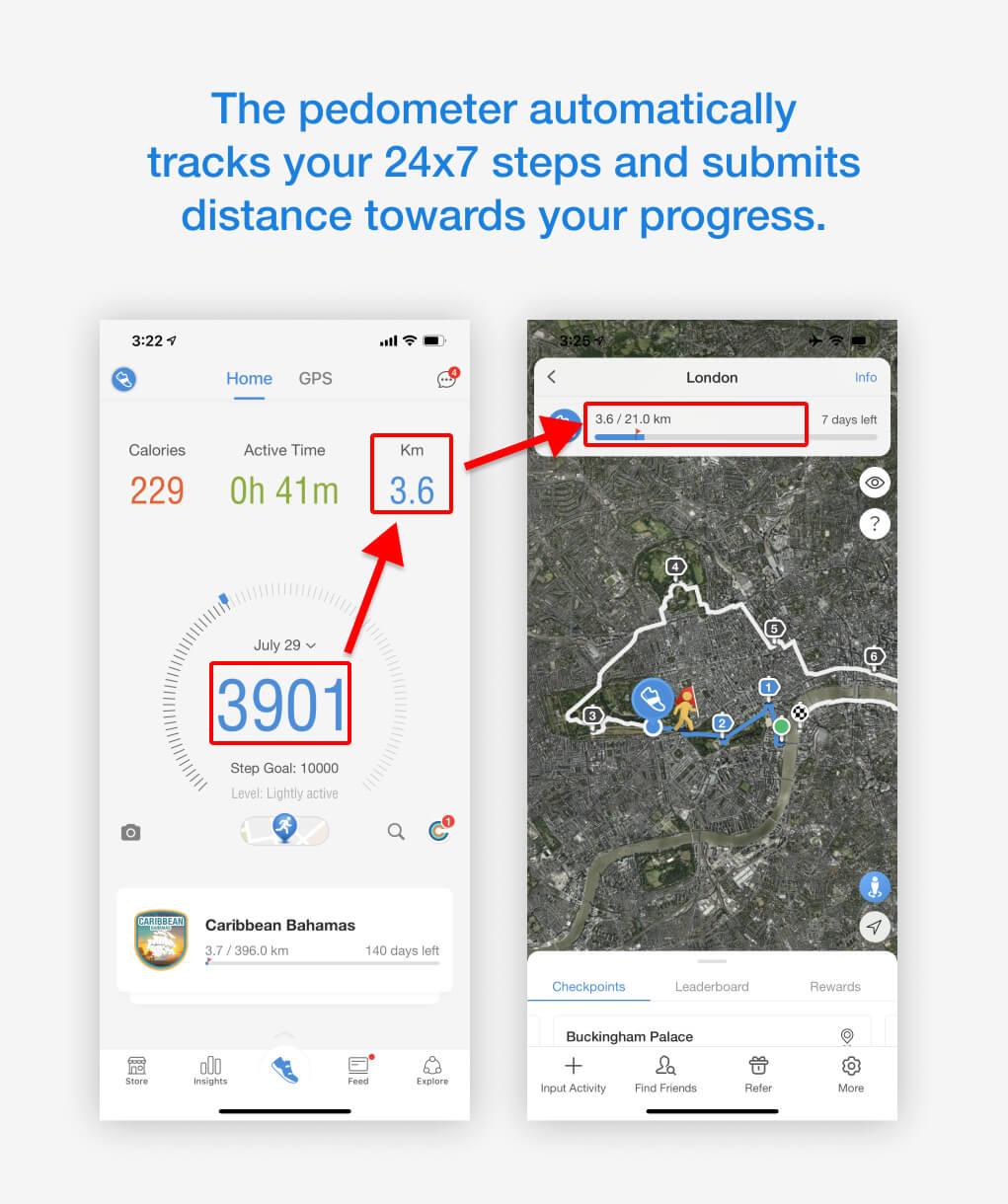 Method #2: Use the Pacer app to record a GPS-tracked exercise
The Pacer App can record your outdoor activity with its built-in GPS tracking feature.
Step 1: Swipe to the left on the main screen to go to the "GPS" page;
Step 2: Choose a sport type, tap the "Start" button, and do your exercise;
Step 3: Tap the blue ⏸ button at the bottom to stop recording, and then save to complete your exercise.
Step 4: Confirm the details and save the result.
Step 5: The distance will be registered shortly and counted towards your challenge progress.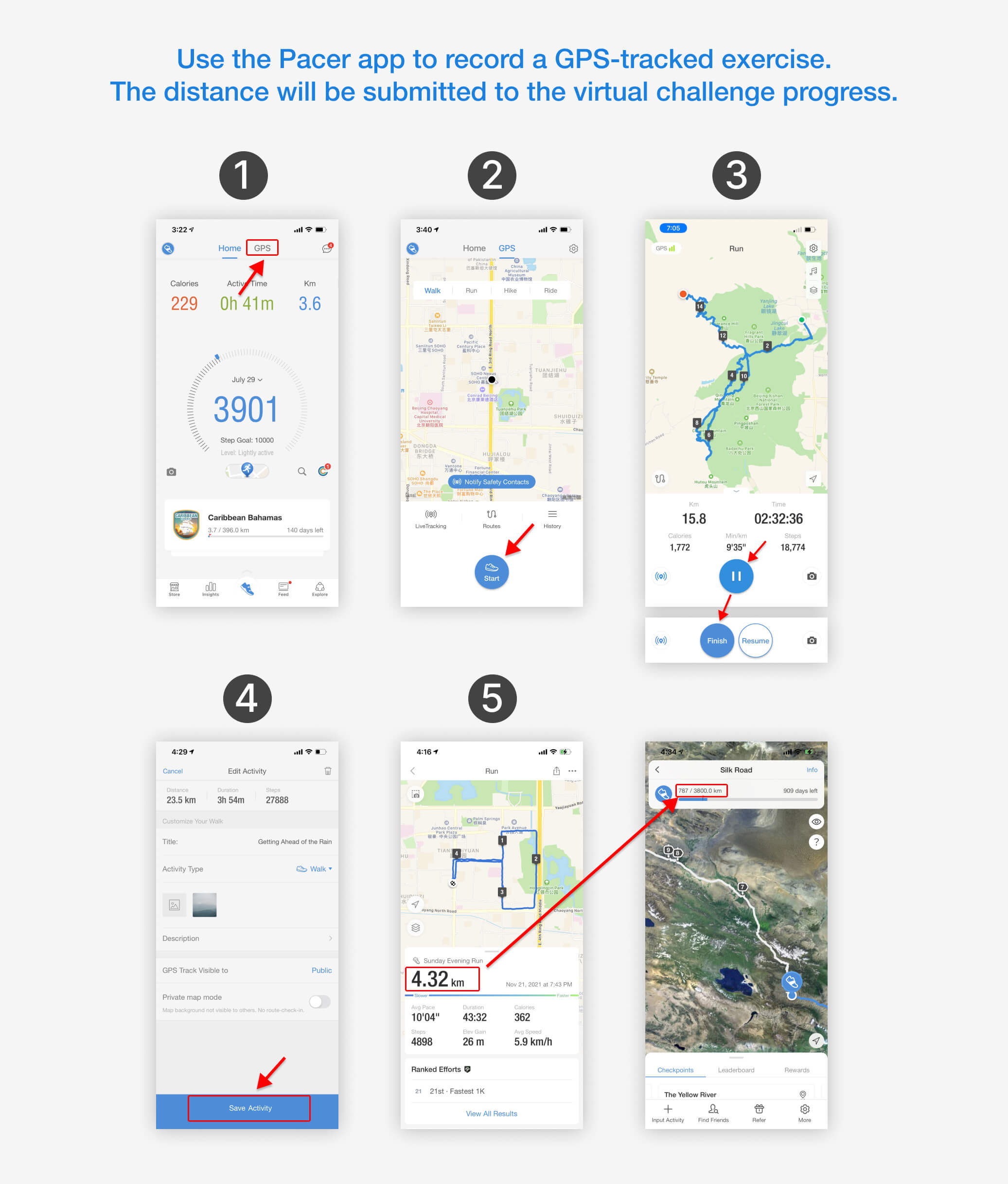 Method #3: Manually input activities in the Pacer app;
You can manually submit a result in many places in the Pacer app, as shown below. Notice that the button on the challenge detail screens won't be tappable if the challenge rules don't accept manual input.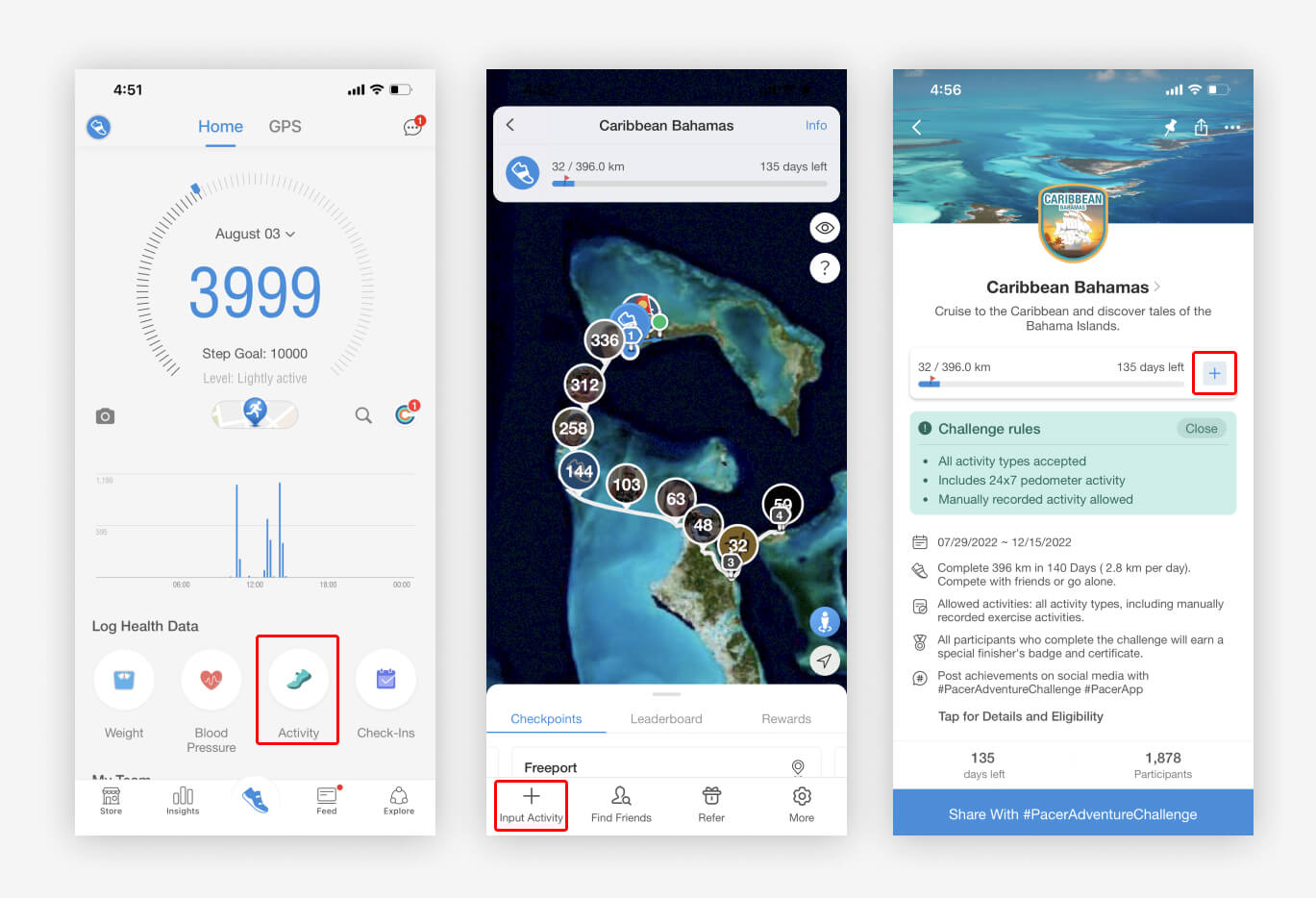 After you tap the button, you will be asked to choose an exercise type. Then you will land on a screen where you can input detailed information of the submission.
Pay attention to these 3 items:
Date: Make sure it's within the challenge timeframe.
Distance: No matter what type of exercise you choose, don't leave the distance empty. If you only enter "duration", "steps", or "calories", there won't be any distance from this manual submission to be counted towards the progress.
Proof of completion: It's recommended that you upload a photo of proof when you submit a manual input. Manual submission without one may be subject to rejection.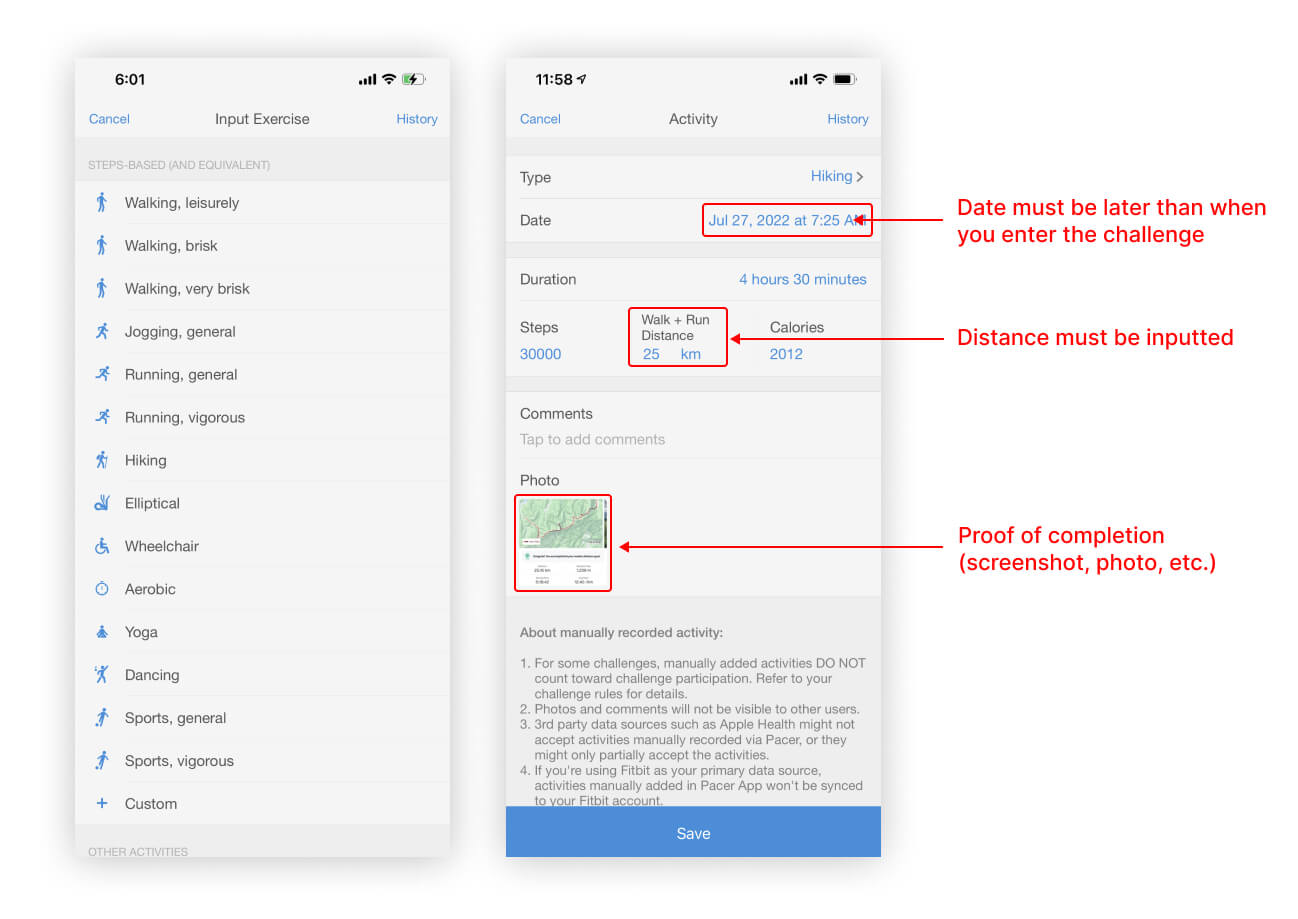 Method #4: Record an exercise with a wearable device or a 3rd Party
Pacer supports connection with many popular 3rd party devices and apps, including Garmin, Fitbit, Apple Watch, Apple Health, Google Fit, Samsung Health, etc.
Click here to learn more about Wearable & 3rd Party App Integration.